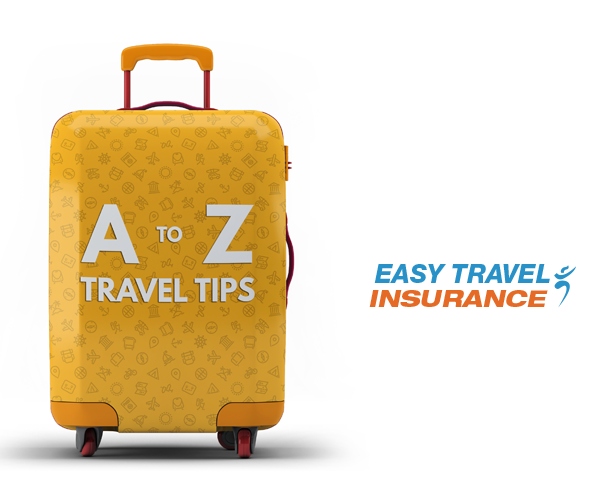 A to Z Travel Tips
Watch this space for new travel tips and advice every day for 26 days!
A – Alcohol - Remember that alcohol consumption can not only impair your ability to make good decisions or perhaps cause you to oversleep and miss a plane or a special sunrise, it can also affect your ability to claim against your travel insurance in certain circumstances.
B – Banking - Is cold hard cash really king? It's fair to say that in some countries it really is, but equally card transactions are more suited to other countries. We recommend you take a mixture of cash for smaller purchases, street vendors or taxis and cards for the larger transactions but there is no hard and fast rule. Do your research and consider a pre-loaded currency card, your 'common or garden' credit/debit card or travellers cheques and for some regions there is no real substitute for (dare I say it) US dollars which are accepted in a vast array of places; but if you are changing money on the run, be careful that you don't get short changed with hefty fees or loaded rates. It's wise to advise your bank if you are travelling so they don't freeze your cards when 'unusual transactions appear'
C – Culture - Many counties have customs and laws unique to their culture which can catch some unsuspecting tourists out. There are obvious examples in some countries such as the Middle East, but as an unsuspecting male tourist in Monte Carlo you can 'get your collar felt' just for walking around without your shirt on!
D – Drugs - Obviously illegal drugs are a definite no-no, but many countries regard some prescription medicines such as opioids or codeine as an illegal substance... check your destinations laws before you travel if you need to take prescription drugs with you, and if in doubt get your doctor to write an accompanying letter.
E – Exercise - Feet up eating and drinking too much!?! Well that's what holidays are for aren't they? That may be true but it's easy to overlook going for a good walk. Ensuring you get plenty of exercise while you travel will not only help you avoid the 'extra baggage' you will bring home but will also help keep jet lag to a minimum, your mind clear and maybe you'll see a hidden gem you may not otherwise have experienced.
F – Feet - Feet are usually the first to show the negative signs of travel, swollen by air travel or blisters because you walked too far in the new shoes you bought especially for the trip. Keep your circulation flowing while travelling by rotating your feet while sitting, or better still, get up and walk about whenever you can, and pack a range of fabric band aids to protect your tootsies at the first signs of rubbing!
G – Getaway - An unplanned weekend away, an unexpected business trip or a dash to visit a sick relative overseas is far more common than you might imagine...consider an Annual Multi Trip travel insurance policy so you can leave at a moment's notice without worrying if you have cover for your journey.
H – Hire Car - Rental vehicle companies will ask you to pay an additional fee to reduce the excess payable in the event of an accident. Many travel insurance policies offer cover for rental vehicle excess as standard or you can add as an option so you don't need to pay the additional excess waiver fee saving you a motza on the price of your car hire.
I – Insurance – If you can't afford travel insurance, you can't afford to travel. It really is that simple. Why not check out some travel insurance reviews to help you pick the cover that is right for you.
J – Journey - The journey is often more rewarding than the destination, so don't forget to take in the sights on the way! Even at 35000ft the view from your airliner window can be very special, with stunning sunsets or sunrises and during take-off or landing there are often great views of cities, shorelines or deserts.
K – Knowledge - Get to know the places you will travel to a little before you go. Use the internet, friends, family or even a good old fashioned travel agent to give you an insight into your destination before you travel so you can get the most out of your time on the ground.
L – Luggage - It's not rocket science really, Travel Light! I have lost count of the amount of times I have returned from a month of travelling and upon unpacking my case I have found so many clothes or shoes that didn't even get taken out of the bag. I just strained and struggled to carry all the extra weight for nothing, and guess what!? I even bought some new clothes while I was away to add to the load. If you put everything out in one place before you start packing to see what you have, you will find you could easily return half of your choices to the wardrobe and as everything is laid out together the chances are you won't forget anything either.
M – Motorcycles - Beware. It's easy to think that just because you are overseas you can get away with hopping on a moped and go bombing round the local streets, exploring further and faster than walking, but assume you won't need a license or to wear a helmet because the locals don't! You must be licensed to ride the class of motorcycle you are renting and you must wear a helmet otherwise you travel insurance probably won't cover you. And, the chances of having an accident, on unfamiliar roads where there don't seem to be any road rules are astronomical. Be careful and make sure you are covered under your travel insurance policy, especially being aware of any requirements or exclusions eg engine capacity.
N – Negotiate – In many markets and even shops around the world, it's 'the done thing' to negotiate prices for souvenirs or other wares. In some cases a market trader may well ask for double the rate you should pay so don't be afraid to barter hard to get the best deal, but be aware some traders can get a little narkey if you haggle hard and then don't buy at all, and there are certain places that you should not attempt to bargain for a discount. It never hurts to ask, but don't be too ridged if the trader is not willing to drop the rates.
O – Observe – Watch the locals. If they crowd around a street food vendor chances are the food is good value, great quality and you won't get Bali Belly! This simple method also applies to restaurants, shops, attractions and transport – no one knows better than the locals.
October 30, 2019