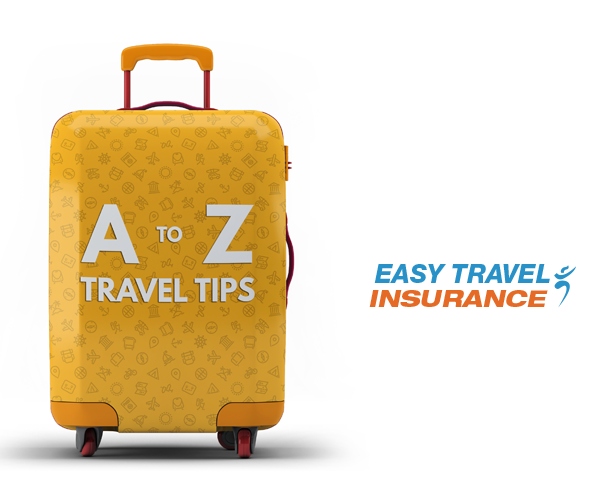 A to Z Travel Tips
A – Alcohol - Remember that alcohol consumption can not only impair your ability to make good decisions or perhaps cause you to oversleep and miss a plane or a special in certain circumstances it can also affect your ability to claim against your travel insurance.
B – Banking - Is cold hard cash really king? It's fair to say that in some countries it really is, but equally card transactions are more suited to other countries. We recommend you take a mixture of cash for smaller purchases, street vendors or taxis and cards for the larger transactions but there is no hard and fast rule. Do your research and consider a pre-loaded currency card, your 'common or garden' credit/debit card or travellers cheques and for some regions there is no real substitute for (dare I say it) US dollars which are accepted in a vast array of places; but if you are changing money on the run, be careful that you don't get short changed with hefty fees or loaded rates. It's wise to advise your bank if you are travelling so they don't freeze your cards when 'unusual transactions appear'
C – Culture - Many countries have customs and laws unique to their culture which can catch some unsuspecting tourists out. There are obvious examples in some countries such as the Middle East, but as an unsuspecting male tourist in Monte Carlo you can 'get your collar felt' just for walking around without your shirt on!
D – Drugs - Obviously illegal drugs are a definite no-no, but many countries regard some prescription medicines such as opioids or codeine as an illegal substance... check your destination's laws before you travel if you need to take prescription drugs with you, and if in doubt get your doctor to write an accompanying letter.
E – Exercise - Feet up eating and drinking too much!?! Well that's what holidays are for aren't they? That may be true but it's easy to overlook going for a good walk. Ensuring you get plenty of exercise while you travel will not only help you avoid the 'extra baggage' you will bring home but will also help keep jet lag to a minimum, your mind clear and maybe you'll see a hidden gem you may not otherwise have experienced.
F – Feet - Feet are usually the first to show the negative signs of travel, swollen by air travel or blisters because you walked too far in the new shoes you bought especially for the trip. Keep your circulation flowing while travelling by rotating your feet while sitting, or better still, get up and walk about whenever you can, and pack a range of fabric band aids to protect your tootsies at the first signs of rubbing!
G – Getaway - An unplanned weekend away, an unexpected business trip or a dash to visit a sick relative overseas is far more common than you might imagine...consider an Annual Multi Trip travel insurance policy so you can leave at a moment's notice without worrying if you have cover for your journey.
H – Hire Car - Rental vehicle companies will ask you to pay an additional fee to reduce the excess payable in the event of an accident. Many travel insurance policies offer cover for rental vehicle excess as standard or you can add as an option so you don't need to pay the additional excess waiver fee saving you a motza on the price of your car hire.
I – Insurance – If you can't afford travel insurance, you can't afford to travel. It really is that simple. Why not check out some travel insurance reviews to help you pick the cover that is right for you.
J – Journey - The journey is often more rewarding than the destination, so don't forget to take in the sights on the way! Even at 35000ft the view from your airliner window can be very special, with stunning sunsets or sunrises and during take-off or landing there are often great views of cities, shorelines or deserts.
K – Knowledge - Get to know the places you will travel to a little before you go. Use the internet, friends, family or even a good old fashioned travel agent to give you an insight into your destination before you travel so you can get the most out of your time on the ground.
L – Luggage - It's not rocket science really, Travel Light! I have lost count of the amount of times I have returned from a month of travelling and upon unpacking my case I have found so many clothes or shoes that didn't even get taken out of the bag. I just strained and struggled to carry all the extra weight for nothing, and guess what!? I even bought some new clothes while I was away to add to the load. If you put everything out in one place before you start packing to see what you have, you will find you could easily return half of your choices to the wardrobe and as everything is laid out together the chances are you won't forget anything either.
M – Motorcycles - Beware. It's easy to think that just because you are overseas you can get away with hopping on a moped and go bombing round the local streets, exploring further and faster than walking, but don't assume you won't need a license or to wear a helmet because the locals don't! You must be licensed to ride the class of motorcycle you are renting and you must wear a helmet otherwise your travel insurance probably won't cover you. And, the chances of having an accident, on unfamiliar roads where there don't seem to be any road rules are astronomical. Be careful and make sure you are covered under your travel insurance policy, especially being aware of any requirements or exclusions eg engine capacity.
N – Negotiate – In many markets and even shops around the world, it's the 'done thing' to negotiate prices for souvenirs or other wares. In some cases a market trader may well ask for double the rate you should pay so don't be afraid to barter hard to get the best deal, but be aware some traders can get a little narkey if you haggle hard and then don't buy at all, and there are certain places that you should not attempt to bargain for a discount. It never hurts to ask, but don't be too rigid if the trader is not willing to drop the rates.
O – Observe – Watch the locals. If they crowd around a street food vendor chances are the food is good value, great quality and you won't get Bali Belly! This simple method also applies to restaurants, shops, attractions and transport – no one knows better than the locals.
P – Passports - Ensure your passport has at least 6 months validity for your trip as most countries will not allow you to enter if your expiry date is less than 6 months away, and make sure you have the correct visas for your destination - some countries eg Vietnam have entry visas valid for airport arrivals which cannot be used for entry through other boarder points such as from Cambodia on the Mekong River. (Speaking from experience!)
Q – Questions – There is no such thing as a silly question so ask lots at your point of booking flights, accommodation, tours etc before you leave, so you are fully aware of things such as check in times, suitable footwear, if you need to cover parts of your body to satisfy cultural requirements or simply if there will be access to food and drinks on a tour.
R – Register –Always make sure you let local authorities, relatives or rangers know if you are going bush walking or otherwise 'off the beaten track' so if you don't return by a nominated time help can be despatched.
S – Sun Sea Sand - Always a great combo, but as at home the risk of sunburn when you are at the beach is huge and sunburn or sunstroke can ruin your trip. Unfamiliar beaches can have dangerous rips or hidden rocks and lost room keys. Jewellery or cash lost in the sand is sure to be more than just an inconvenience.
T – Telephones - There are lots of phone options available to travellers and the right solution will be unique to your circumstances, provider and destination. Many mobile or cellular providers offer fixed price day rates for using your mobile in certain overseas counties whilst others charge for each call, message or data use. Sometimes you may find it best to get a dedicated travel sim card before you leave or when you get to your destination but some countries require you to be a local resident or there can be a long wait for activation of the service, so be aware you may be out of contact for a while if you chose a local telephone option. The best advice I have been given though, is no matter which phone option you pick, always turn off mobile data BEFORE you leave. Just turning your phone on when you land in a foreign country can chew up massive amounts of data at premium rates while your phone looks to refresh your emails, social media, app updates etc.
U – Underwear - As mundane and obvious as this may sound, lots of clean underwear weighs next to nothing and can make a big difference to your daily comfort. It's a great idea to take some extras in your hand luggage too…so nice to get freshened up halfway through a long haul flight!
V – Vaccinations - For travel to exotic destinations and some third world countries often it is advisable to ensure you have protection against some of the diseases that are concentrated in that country. Your regular doctor will have a full list of the vaccinations required for the countries you are travelling to, and most will have everything to hand in the surgery, so if you are travelling anywhere that is deemed a bit risky, or if you are in any doubt, make an appointment at your GP before you travel and get expert advice.
W – Water - When flying internationally you will not be permitted to pass through security with any bottled water (and other fluids up to certain limits for certain destinations – check restrictions with your airline) but if you take a water bottle with you there are always ample water filling stations when you have been cleared through security. Taking a water bottle reduces your need to find places selling bottled water when you are exploring on your travels but remember, some countries don't enjoy the same water quality we take for granted, so you may need to fill up at your hotel, in a restaurant or your local shop.
X – X-ray – You will be X-rayed and so will your luggage when you fly and it is perfectly safe even if you are pregnant. Cameras and other electrical equipment will not be adversely affected either, so relax when your holiday snaps are passing through the scanner and remember the scans are for our safety.
Y – Yoga – This really is a big one! No matter what your age, shape or size, a few yoga exercises while flying or sitting in bus or train for that matter, can really make a difference to how your body is affected by long periods of inactivity. Try stretching your calf muscles, rotating your hands and feet, or tucking and elevating your chin to stretch your neck muscles. There are many ways you can stretch while confined to the small seats we have to endure and even the shortest of seated yoga sessions will pay dividends.
Z – ZZZZ sleep - One of the best ways to avoid jet lag is to get into your usual sleeping pattern in the destinations local time zone. You may well be dog tired when you arrive after travelling for hours on end, but if you can just stay awake until your usual bed time, and set an alarm to wake you at your usual time to rise, you will sleep like a baby and wake up fresh as a daisy.
October 30, 2019