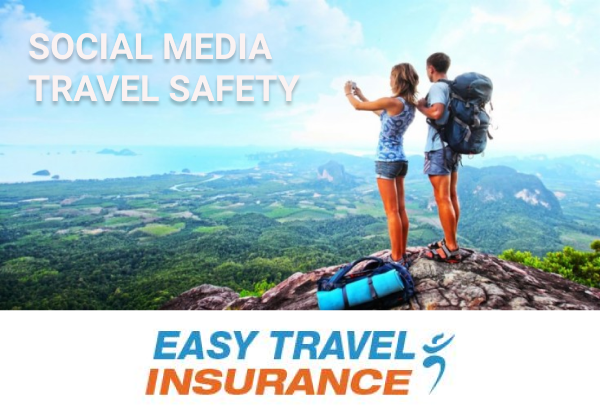 Social Media Travel Safety
And suddenly the world was released from lockdown and we all rushed off on holiday, straining our lungs while bellowing our joy and gushing relief at being finally freed, and with the volume turned up to 11, sharing these pent up emotions with the masses, from the rooftops, down in the streets and of course all over the internet!

Sharing your trip highlights on a site like Facebook is fun, but you might be surprised that there is a right way and a wrong way to do it, and that if you're not careful you could come back from your vacation to find your home emptied of valuables. Here are some tips to help you share your vacation experiences on Facebook without adding undue risk to you and your family's personal safety.


Don't Post Status Updates While Still on Vacation
One of the biggest mistakes you can make is posting anything about your vacation while you are still on it. A thief trolling social media, or perhaps a friend of a friend with a delinquent brother who happens to see your vacation post, might decide that while you're away on your expensive vacation, your home is prime for plundering.

Putting current updates out there that place you far away gives the unscrupulous thief (or thieves) ample time to plan and then execute a robbery of your house. After all, you won't be back anytime soon. Never assume that your status post is going out to only your friends, even if your Facebook privacy settings only allow friends to view your posts. Your friend may be reading your post at a coffee shop unaware as a stranger reads the same thing over his shoulder. Or your friend may have left a Facebook account logged in on a computer at the local library, allowing the next guy to sit down at it to view your status posts and more.

Oversharing on Facebook can be risky. If you wouldn't give out your vacation plans to a room full of strangers, don't share them on Facebook until you have safely returned home.


Don't Post Pictures While on Vacation
Did you just snap and post a picture of the decadent dessert that you are about to enjoy while at that fancy restaurant on your vacation? Doing so may have just given away your present location in the GPS-based geotag information that often is embedded in the metadata of the picture when you took it. This geotag information reveals where the picture was taken and could provide both friends and strangers with your current location, depending on your privacy settings.


Don't Tag Other Vacationers While They're Still on Vacation
Vacationing with friends or family? You should probably not tag them in pictures or status updates while you are all still on vacation, because doing so will reveal their current location as well as your own. They may not want this information about themselves broadcast for the same reasons mentioned above. Ask them first.

Wait until everyone is safely at home and then tag them later if they want to be tagged. You can help keep your own details from being broadcast by others by enabling Facebook's tag review tool.


Don't Post Upcoming Travel Plans
Are you sensing a trend here? One of the worst things you can do is to post details of your upcoming travel plans and itineraries on Facebook.

For one thing, you are giving potential thieves a huge heads-up on when you'll be gone and when you'll be back. But you're also revealing where you'll be and even when — and criminals could be there waiting for you. Your family and your employer should be the only people who need to know specifics about your travel plans. Don't post the information on Facebook.


Do Secure Your Social Media Accounts
While surfing the world's great ocean waves consider the impact of surfing social media and the internet in general while you are travelling.

'Free' Wi-Fi hotspots are plentiful nowadays and roaming charges are horrendous with most carriers for your mobile data usage so it's fair to say you are most likely going to be hooking up to various hotspots in cafes, bars and hotels while you are travelling. By their very nature of being free to one and all the connection you make could well be the weakest link in your electronic security.

Be sure to monitor the connection for significant uploads or downloads not associated with your usage and ensure your passwords for everything on your device are as secure as they could possibly be.

Keep your anti-virus software fully up to date and from time to time running a scan after you have been online is a great way to ensure there are no nasties lurking in your smartphone, tablet or laptop.
April 11, 2021