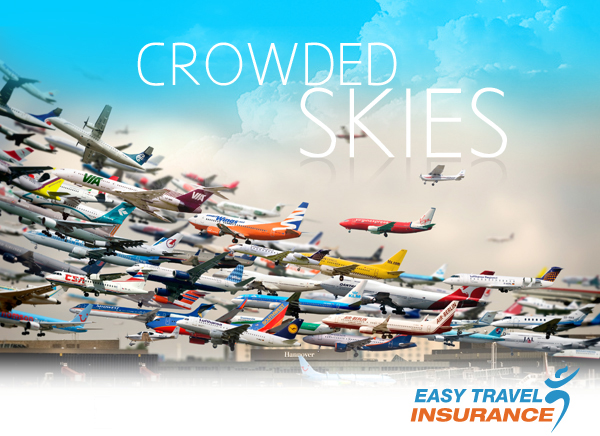 Crowded Skies
In light of recent tragic events in the civilian aviation industry here at Easy Travel Insurance we are increasingly being asked the inevitable question "Is air travel safe?"
Of course we could respond with the old cliché' answers such as "You are more likely to get run over crossing the road or being involved in a collision while travelling in a car or on public transport" which can be true, and the evidence is easy to find if you watch the news on television, online or look in a newspaper the stories of car crashes or other horrific events are numerous….bad news sells papers!
So, I thought I would try to put things into perspective, and when I researched some air travel figures I found the results to be completely astonishing, and I bet you will too.
I know many of you will get on your favourite search engine to see if I am right and I can give you some pointers in this area…look at the Boeing and Airbus websites for their own estimates and do some simple maths to see if you get the same answers as me.
Some sources suggest that at any given moment in time there are ½ million passengers in the skies above our heads – Yep, that's right you heard me correctly; And actually these numbers are so conservative that many experts are saying that at some peak times this number is probably shy by about a million!
Hmmm, so we could be looking at 1½ million passengers aloft – right now?
Seems incredible I'm sure you agree, so how do we arrive at these estimates?
Well, a number of approaches are employed but in a nutshell Boeing say that in 2011 almost 51 million hours were logged for commercial airliners worldwide with over 23 million departures, and interestingly this equates to an average of about 2 ½ hours per flight.
There were 2.8 billion passengers carried worldwide in this same year, 2011 so the average number of heads per flight comes in at about 120. A FlightAware Live Flight Tracker report available on line from a number of sources states 4225 aircraft in the sky at midnight on 6th January 2013, so taking our average 120 passengers per aircraft multiplied by the 4225 aircraft, gives us an estimated 507,000 travellers in the air right at that moment in time.
Of course we are talking averages and so the numbers will inevitably fluctuate but if you consider the figures used do not account for pilots (and there are 2 per commercial flight) you can easily add another 46 million heads to count over a year.
Also not included are other air crew, flight attendants and military & general aviation, so all the light aircraft, balloons and private helicopters, along with corporate jets, freight and humanitarian passengers add up to some staggering numbers.
So, when you hear of a tragic event and the sad loss of an aircraft, perhaps we can take some comfort in the knowledge it was 1 out of 23 million commercial airliner flights that operated during the year, so I think the odds remain pretty good, and I think you'll agree!!
September 02, 2014