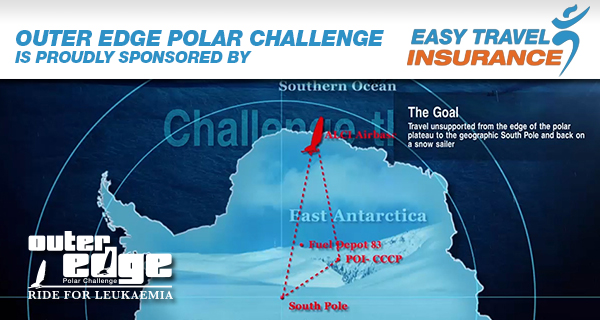 Polar Challenge Ride For Leukaemia
Easy Travel Insurance are proud to be the exclusive travel insurance suppliers and sponsors of the Outer Edge, Polar Challenge Ride For Leukaemia.
Starting out in November 2014 the goals are clear:
To raise funds to support the Leukaemia Foundation.
To challenge the current world ice sailing speed record.
To travel unsupported from the edge of the Antarctic polar plateau to the geographic South Pole, then returning via the Pole of In-accessibility back – a distance of approximately 4500 kilometres.
To prove that snow / ice sailing and wind powered travel is a viable and environmentally friendly means of travel and transportation in Antarctica.
To challenge the current world record for distance covered unassisted and wind powered in a 24 hour period in Antarctica.
To tow a ground penetrating radar to measure ice thickness, monitor wind speed, snow sailer speed, surface roughness to gain some insight into snow/ice friction.
To engage with school students. There is a push to increase science, engineering and technology education in Australia and this expedition ticks all those boxes, thereby appealing to tomorrow's generation of subscribers and / or their parents.
How can you help? Donate at Everyday Hero by clicking on the Everyday Hero logo. Click on the banner & Outer Edge will donate $5 from every new subscription to the Leukaemia Foundation in your name.
You don't need to be going to the South Pole or even to the top of Mt Everest to need travel insurance, but it's nice to know if you do find yourself away from home and in need of help, with no distance or height limits, you can rely on Easy Travel Insurance to provide peace of mind.
To find out more and get an obligation free quote look no further... Easy Travel Insurance.
August 11, 2014