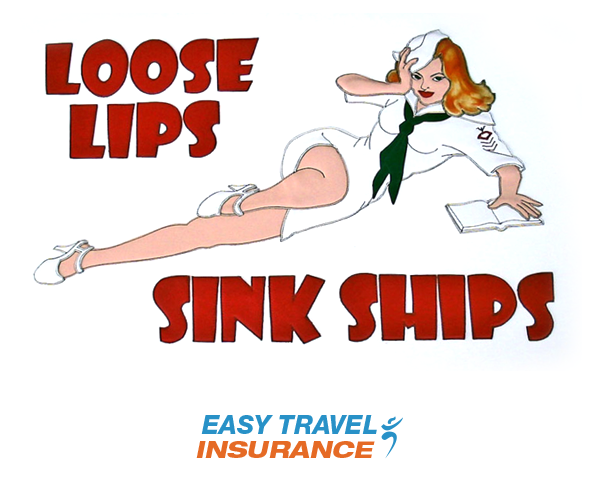 Loose Lips Sink Ships
Now more than ever it is important to be very careful when you are going away and leaving your home unattended for any period of time. Whatever your reason for travelling, remember there are many unscrupulous people around trying to take advantage of any opportunity to grab what isn't theirs and a few simple tips like these could help to keep your home safe while you are away. Remember the golden rule, Loose Lips Sink Ships, so keep your travel plans to yourself and only essential family or friends.
1) Don't post your travel movements on Facebook or other social media – Advertising to the world that you are travelling can attract some 'Friends' to pay your home a visit while you are safely out of the way.
2) Make sure your home is secure when you are leaving it unattended – Check doors and windows are firmly locked and make sure outside gates and fences are also secure as a first line of defence.
3) Leave a light on in a room that is visible from the street – A few pennies invested in keeping a light on is a superb deterrent, but even better is to source a timer and plug a lamp into it. Many modern timers cost just a few dollars and can be set to turn the light on and off through the course of an evening giving the appearance you are at home and even switching off completely at your normal bed time.
4) If you are travelling for a long period of time, it is a good idea to ask a friend, relative or neighbour to look in on your home as regularly as possible to pick up junk mail, newspapers and other tell-tale signs you are not home, and if you can push your luck, why not ask them to mow while they are there!
5) Turn off and unplug all appliances that will be idle while you are away such as kettles, toasters, televisions and computers, but think carefully about turning off water heaters if you live in an area where pipes may freeze overnight or refrigerators if you are leaving anything inside... but remember to discard perishables such as milk and vegetables before you leave, otherwise you may feel as if you have invented penicillin when you return to a lump of mould lurking behind the sauce bottles.
6) Notify the local police or neighbourhood watch program if you have one, and they will keep a watchful eye out for you.
7) Don't forget your pets! Arrange for temporary accommodation for the obvious dogs cats etc, but don't forget the smaller less obvious animals, fish or reptiles that may need some care.
8) Make sure your bins are emptied and that there are no food scraps laying around to encourage mice or rats.
9) Remove any hidden spare keys from under the rock by the door, hanging in the letter box or on top of the door frame. If the local hoods rumble that you are away, they may well come looking for an easy entry, so don't hand it to them on a plate.
10) Make sure your home insurance is up to date and check there is not a clause that restricts the amount of time you can leave your house vacant. Assuming you have valid home insurance while you travel, Easy Travel Insurance travel plans include cover for Home and Contents excess.
July 20, 2020