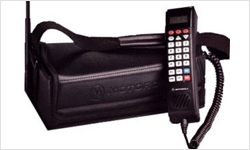 Airtime
Assuming you had enough carry-on baggage allowance for the first commercially available 1kg brick back in 1983, it has been drummed into us that to fly with your mobile telephone switched on, or heaven forbid, to use it in-flight would send your plane flying in circles with all the navigation instruments whirring uncontrollably, or worse… plummeting out of the sky. We are completely used to this conditioning, and have been convinced by on board safety videos and as many scornful hard stares from flight attendants that we must turn off our mobile devices as soon as we board a plane. With the introduction of flight modes, gradually we have become used to being able to turn on these devices while in the air to play games, listen to music or read electronic books and magazines.
A new relaxation in rules to turn everything we have been told on its head, came in early 2008 when Emirates became the first airline to allow in flight calling and texting on a flight between Dubai and Casablanca. For those on board, taking into account everything we have been told about flight safety, I am sure there was a certain amount of fear and trepidation, interspersed with excitement at being a part of such a techno milestone. 4 years on, the company behind the technology, AeroMobile, provides an inflight mobile satellite communication system supporting voice, SMS, MMS and mobile data for a multitude of devices. The key to the whole system is that signals are transmitted up to the communication satellite instead of down to the ground.Air China, China Southern and China Eastern have all begun down a path to bring these services into their fleets seeing the benefits for passengers and crew and no doubt the huge sales pulling power. Rolling out this technology into their Airbus A330 aircraft, Virgin Atlantic have announced that they too will be offering this premium service on flights between London and New York.
There are a few things to note, services are charged at international roaming rates so calling home to check you cancelled the milk won't come cheap, but then if you are flying overseas anyway you are already expecting premium costs for your calls. Currently only 5 or 6 users can hook up to the on board network at a time due to limited bandwidth; and whilst it is expected you will use your device in a silent mode, the chitter chatter that is common on trains and busses prompting many services in cities around the world to introduce "quiet carriages" where talking is forbidden, will soon be rife in the confines of air travel.
The schools of thought for both sides of the argument are likely to spark intense discussions and like everything there are positives and negatives to this exciting breakthrough, but I wonder if the stalwart countries that continue to ban the use of mobile phones while in their airspace, such as the USA, are perhaps doing us a favour.What do you think about the peace and quiet of your flying time being disturbed? Are the positives far greater than the negatives?
July 11, 2012