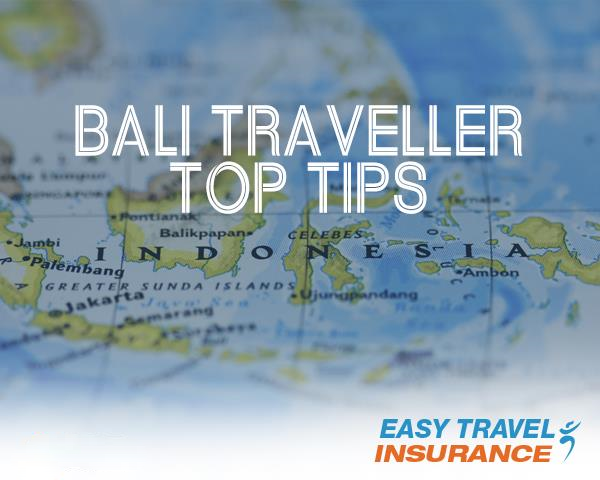 Bali Top Tips
If you are heading to Bali there are a few hints and tips that could prove to be invaluable.
You do not need to pre arrange a visa if you are a national from Australia or New Zealand travelling to Indonesia but you will be required to obtain a visa on arrival at a cost of US$10 for a 7 day transit visa or US$25 for a 30 day tourist visa. This may seem obvious, but remember the day you arrive is counted as day 1 even if it is 5 minutes to midnight and not day 0 (zero) so don't get caught out without a valid visa if your stay is around the 29 or 30 day mark.
The roads and traffic system can seem a bit chaotic to say the least for the uninitiated and you could well face traffic approaching head on and from all sides! Beware if you are renting a scooter or other vehicle and be sure to rent from a reputable outlet so you don't get scammed over damage or loss.If you are renting, make sure you are legally allowed to ride the vehicle you are renting and absolutely make sure you have travel insurance that covers you when you are out on the road. Easy Travel Insurance have included cover for scooters, mopeds and motorbikes as long as you hold an unrestricted motorcycle in your country of residence or if the vehicle has an engine capacity of less than 250cc, at no extra cost on all their travel policies.
If you are visiting any of the wonderful temples or other holy places, whilst most tourist hubs like Bali are quite relaxed about you showing off your newly tanned bare legs or chest, some may be a bit more strict and insist you cover up before entering. Respect the local traditions and if in doubt cover up.
It's never wise to travel with armfuls of cash but if you are heading off the beaten track for day trips or going to secluded destinations, there may well be a distinct absence of cash machines, so make sure you always have enough cash to meet your needs.
Drinks all over Indonesia and Bali are incredibly cheap, but beware of the ones that seem even too cheap by Bali standards… often they can be bootleg or moonshine home brewed drinks and can be potentially lethal and if you are taken.
Talking of drinks, the water should be avoided as it is not safe for our tender stomachs. Sure the locals drink it, make ice from it and use it to clean their teeth, but they have a resistance to the potentially terrible results, and you should avoid it where ever possible – this includes eating raw fruits, vegetables and salads that will have been washed in the local untreated water. Hotels often include complimentary bottled water (no, the water doesn't spend all day saying nice things about you!) and you can usually buy all manner of different mineral waters from just about any shop, vendor or service outlet.
There are lots of hilarious pictures and videos all over the internet of tourists interacting with cute monkeys that are always found where people may have food, but remember their bites or scratches can be the cause of some pretty nasty infections, and could land you in hospital so take care when interacting with them. These adorable creatures are also well known for a terrible villainous streak and if you are not careful they could well run off with your lunch, loose clothing or even your wallet, bag or camera, so keep everything firmly in your grip so they don't get it into theirs. With their impressive agility, local knowledge of the rooftops and lightning straight line and climbing speed they are almost impossible to catch when they are fleeing the scene of the crime!
The Indonesian archipelago is known as the 'Ring of Fire" and this is not due to lots of spicy food served up by the locals, but because the entire area is made up of more than 13000 islands with 147 volcanoes, some of which are active right now, others that are showing signs of pending eruptions and others that have been active recently or not quite so recently, so if you are going to the region be aware that volcanic activity can affect YOUR travel plans, not just because of immediate lava or spewing rock problems but also because vast ash clouds can drift over the region forcing airlines to cancel or re-route flights leaving many tourists in limbo. Don't wait for a travel warning and the inevitable embargo that can be applied by travel insurance underwriters when an event is likely, get covered as soon as you make plans to go.
Of course, you should always get travel insurance if you head away on any travels for all the usual pit falls such as medical, dental, luggage or anything unexpected, but if you are going to this area, even if there is no warning on current volcanic activity, get the best cover you can find as the situation can change overnight!
October 06, 2017