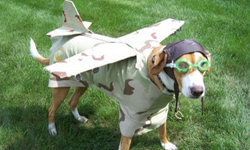 Flying Cats and Dogs
Flying Cats and Dogs
Man's best friend is often not man's best travelling companion when airports are involved, as there are so many do's & don'ts and ifs, buts and maybes, but it doesn't need to be overly difficult to take your pet along for the ride; use some common sense and keep communicating with the authorities and your flight operator and before you know it, you'll be lazing on a tropical sunny beach or strolling the world's best parks and gardens with the love of your life by your side!
The first mistake most people make is turning up at the check-in desk, with Felix and Fido unannounced – even though we normal people love surprises, sadly, airlines don't share our enthusiasm for spontaneous pet trips! If the baggage commitments for a flight are stretched you'll find yourself heading home with a disappointed pet, and be wary - certain airlines won't accept pets at all. On the other hand, some operators will fly your small or medium sized pet for free as part of your baggage allowance, while others will charge a small fee. Note: Sometimes you will find you cannot book your pet on board until you are within a 4 month window of travel which can make things a little tricky if you are booking your own flights 6 or 7 months out from the departure date and you are not certain if your pet will be permitted to travel. Specific policies and details can usually be found in the baggage information section of the operator's website.
In the event an airline will not carry pets, don't despair, freight forwarding companies have operations servicing most domestic and international airports and in many cases you can even book corresponding freight flights to match your own itinerary – Australian Air Express are a division of Qantas, but will fly your pet irrespective of your own carrier or travel arrangements.
The rules of course, differ for domestic and international travel and the key is to check all regulations and requirements as early as possible in the booking process, with the airline and also the authorities at both the origin and the destination. The International Air Transport Association (IATA) governs the transportation of live animals and its website has a wealth of useful information.
Ensure your pet is comfortable with a favourite blanket or small toy, housed in a purpose built container which has been securely closed and labelled. Plastic, wire or wooden containers will mostly be accepted, but there are specific minimum requirements that need to be met depending on the carrier. Generally these requirements are aimed at protecting the well-being of staff and other travelling animals, but also to ensure your pet arrives safe and sound at your destination. Be sure to invest in a suitable pet container if you plan to travel with your pet on a regular basis, but if the trip is likely to be a one off event, containers can be rented from specialist suppliers such as Dogtainers.
Domestic travel is mostly straight forward and requires just a small degree of planning. Making sure your pet is pre-booked and getting to the departure area early is really the extent of it, but if you are flying international, you will need to really do your homework. We recommend a thorough search online for departments relating to food, livestock and agriculture in your destination country for import details, any prohibited species or other requirements and limitations. There will almost certainly be quarantine periods for entry into most countries, not to mention vet checks, permits, licences and vaccinations, however, it is important not to get discouraged by the hoops you will be required to jump through, moreover to identify the necessary steps required and the order you need to take them. If you are travelling with your domestic pet such as a dog or cat, in most cases it is just necessary to work through the process methodically and all will fall into place – should you find yourself traveling with exotic animals or endangered species, the rules will change significantly and if you are a novice or first timer you may need expert help from a dedicated pet freight company such as Jetpets.
Whatever your destination, one rule applies for all airlines - Do not drug your pet unless specifically prescribed by a vet. Airlines will not accept your pet with any signs of doping, and a sedative or sleeping pill without supporting documentation will mean your pet will not be permitted to fly.
April 04, 2013