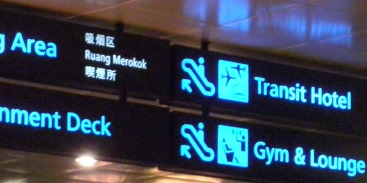 How To Void Your Travel Insurance
It's no surprise that many insurance companies won't cover you for activities you freely undertake that put yourself at risk such as the Spanish tourism favourite, Running with the bulls – but did you know there are other ways you can void your travel insurance cover that may not be quite so obvious.
If you find yourself stood at the bottom of a sheer cliff face in the remotest and wildest jungle of Borneo, staring at ropes that disappear up the rock into the clouds, and your mates shout, "C'mon lets climb up and see where this goes" the chances are you are not going to be covered by your travel insurance if you come a cropper and tumble countless meters to the floor and then need an air ambulance to evacuate your crumpled body back to civilisation, and the same is often true for similar activities such as pot holing and base jumping, but as with all stories there is another side to this scenario. If you were walking home along a poorly lit path, in a strange town and fell down the same mountain because the path was not clearly marked and there was no fence, there is little doubt that there will be no problems getting all the assistance you need. So the key to ensuring you have continued peace of mind is to ensure you are never deemed to have placed yourself in harm's way.
The thing to be very careful about though, is that even if you are normally a placid and careful individual, if you are under the influence of an intoxicating liquor or a drug (except a drug taken in accordance with the advice of a registered medical practitioner) and you get rip snorting drunk in the local bar and start a fight with the local bikey gang, then you will once again be on your own and you will need to get yourself out of that one!
Other pitfalls are the failure to disclose existing medical conditions such as an organ or limb transplant or a dodgy ticker, so if you fail to mention your recent lobotomy and then complain of headaches while driving through the French countryside, there is every chance that you may be refused any claim. If you are driving in the Dakar rally and the pace is a little more frantic than the usual breakneck speeds the Citroën 2CV offers, then travel insurance cover is a long way over the horizon from most providers who apply this fairly simple sporting event rule: If the event is for a prize or sponsorship then no cover is available. If in doubt it is always best to ask your agent to clarify. For many ailments though, cover is available free of charge, whilst others may attract an increase in premium or a higher excess, but the golden rule is to declare anything that you are unsure about.
A common question asked lately is whether cover will be honoured for war zones or areas experiencing riots and civil unrest. The simple answer is based on the common sense attitude that we should all adopt; do not intentionally place yourself in danger – So as an example, we should not book 2 weeks sightseeing in Syria while the current civil war is raging and expect to be able to claim for pre-paid accommodation that has been raised to the ground by heavy shelling. You must do everything in your power to avoid putting yourself in danger, but if you do find yourself in the middle of a flash mob, ransacking Kensington High Street, and smashing the windows of your hotel, then you have a genuine reason to expect the provider of your travel insurance to whisk you away to a safer place, far from the petrol bombs and tear gas.
On a happier note some insurers offer cover for entertainment and family events and so if you are travelling to Las Vegas with the sole purpose of attending a quickie family wedding and the bride and groom have a barney before they exchange vows in the presence of Elvis, you may find you can claim for the trip – and the same can be true for ticketed sporting events, pre-paid shows, concerts, courses, conferences or even tuition.
The underlying thread you should have picked up on, is that if you apply common sense, you are honest and careful, and you do not intentionally put yourself in harm's way, you have the best chance of getting the best peace of mind and value for money from your travel investment. Stay safe!
July 22, 2013