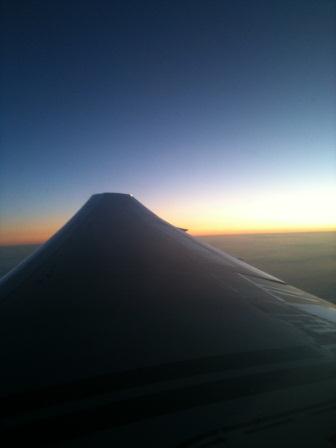 Choose the Right Profile
Choose the Right Profile... Nowadays that's settings on smart phones, mobiles, pcs and macs; but it's still about real life too.
Before boarding a jet plane and speeding halfway round the globe, and back again for good measure I try to set my frame of mind for my expedition, so I enjoy every minute from when I step out of the front door, all the way through the journey and up to the minute I collapse exhausted and satisfied back at home on the lounge, safe in the knowledge not a single second was wasted and you know what? I really wish I had more time to enjoy the flight... Yeah that's right - the flight!
After all, do we really make the most out of 10 or 12 hours of aero confinement where we are convinced we will die of boredom, yet often we struggle to get 10 or 12 minutes peace and quiet in our usual daily schedules. We spend so much time prepping and planning a trip that and soon as we begin our long anticipated journey, we almost always want it over and done with; to get to the all-important destination is the be all and end all, and our only focus.
But are we failing to enjoy the opportunity, excitement, atmosphere, and challenges along the way? Sure it's cramped and irritating on most flights, buses & trains too, and next time I will DEFINATELY shell out the 'Extra Folding' for at least premium economy or business class on the longest leg of the journey, but how often do we relish the satisfaction of our well executed plans and use our air time wisely.
Sleeps great if you can get comfortable, catching up with works ok too, but there are lots of other ways you can make the passing of travel time rewarding and fun.So take stock for a moment and think about how often we get the chance to sit back & relax, eat, drink, and enjoy some serious 'Me time' whilst being waited on hand and foot by eager customer service professionals.
Let's take a moment to think about how to make the most of this precious down time and choose to be a seasoned traveller by attitude, not by air miles 'n' altitude. Pick the right frame of mind and you'll wonder why people bother with first class (?!?) Choose the Right Profile my friends and the journey could become the most enjoyable and memorable part of your trip!
Always try being a Boy Scout or Girl Guide, and be as prepared as possible for the journey, but be wise with your choices, especially your carryon baggage, as some items can weigh you down unnecessarily and remain redundant for a 26000 mile round trip! I love to travel light, but curse not having some essentials, so I plan carefully to cover every eventuality but nothing more.
I like to bring my own lightweight but inexpensive bud type headphones, or even a set of noise reducing over the ear type if I can afford the space. A two pin adaptor is handy so I can plug them into most aircraft entertainment systems - things have become pretty standardised nowadays and usually it is a single 3.5mm jack unless the aircraft is a little older.
A great advancement I have seen increasingly is a USB outlet for plugging and charging some devices so you can stay fully charged all the way so you don't have to spend your transit time hanging around the mobile phone charging outlets or 'stealing' power from the terminal building.
The on board movie channels are full of the latest movies, television shows, news, current affairs and documentaries, whilst the music channels are home to some of the most wonderful and eclectic DJ's who, may well inspire a new musical avenue in your life. Despite these canned shows being pre-recorded and adapted to suit an aircraft format, they are regularly updated, news programs daily and other schedules are usually monthly; they offer lively, informative and credible shows covering a broad cross section of popular tastes, so there is sure to be something to tickle your fancy. Please don't dismiss them out of hand without trying them first. I've spent the whole of my life being inspired, amazed and humbled by the skills of musicians from all genres the world over, and so for me a music player of some description is an absolutely essential tool. Loaded to the hilt with the music you have most recently found yourself in love with, some you have had past affairs with and new music that has attracted your attention but you have not yet flirted with, you will have hour upon hour of uninterrupted soundtrack for your journey as well as a handy way to block out ambient noise if you are trying to sleep.
Books are great too, but remember some weigh far more than you can afford to carry when you are lugging them from one end of the planet to the other. Don't get me wrong, I love to read too but as I am sure you don't need me to tell you when travelling each and every kilo comes as a premium and quickly feels like 10. By all means, if there is a lightweight title you are already engrossed in, the pleasure you will gain will far outweigh the effort required to transport it, but in most cases there are far more efficient options than carrying hard copies all the way from A to Z.
You can access a vast array of books and magazines electronically through many devices, either in written form or as audio books, and if like every other person on the planet you have one of these chameleon like devices that can pass itself of as a mobile phone, an entertainment centre for music, videos, games, a GPS, or even a word processer you already have at your fingertips a credible, powerful, cost effective and extremely weight effective alternative.
Bear in mind also that most airlines often have a rack of free local newspapers or they hand them out when you are boarding, many also carry a great selection of the latest magazines near to the galley area to help keep their restless customers entertained, so don't be afraid to ask if they don't offer. As a last resort, the on board magazines from all the airlines have great articles about the destinations they are servicing offering virgin visitors a great briefing about their destination before touching down some where new. I have even read up about my own home city and been surprised at how little I know about where I should be the most knowledgeable!!
Drinks are a tricky subject because there are limitations on what you can carry through security. Be very aware that if transiting or having a stopover `en-route, that if you are required to leave the aircraft with your hand luggage, that when you re-enter through security you will almost certainly lose any fluid duty free items you have started your journey with; despite the convincing sales confidence of the staff in the duty free shop. The rules seem to be illogical, unfair and often down right wasteful, but before buying duty free liquids, including perfumes and other personal hygiene items, ask! Not the shop assistant who will gladly sell you anything and legitimise the answer by looking your allowance up in an "official" table. If you are in any doubt at all, double check the current regulations with a customs or security official.
The problem is usually not about permitted quantities but more about fluids that are more than 100ml in volume, being taken through security onto aircraft, even if they are sealed in a duty free bag. A reusable water bottle can be a life saver for certain, and can be emptied of its contents before security checks and refilled from water fountains along the way, for me though I never leave home without my favourite tea bags or a small plastic container of instant coffee – most cafes will heat hot water for you for free if you ask nicely and you can easily jiggle for a few minutes before enjoying a comforting taste from home where ever you are.
Food has its own challenges and I have to admit I tend to avoid the agro of managing food stuffs out of my own kitchen, so I count on the airline supplying at least the basics. If they are not laying on 3 course meals and Dom Pérignon to quench your thirst they will at the very least bring water to prevent dehydration and you can almost certainly count on enough pretzels and rice cracker snacks to get you through the journey.
Most airlines though will have some food available, even if you do have to pay, and in my experience it is a little dearer than you would expect to pay elsewhere but it is usually of a reasonable quality and far nicer than a squashed egg and lettuce sandwich you made 12 hours ago!
If you are travelling with kids on the other hand, then the rules here are little different, but bear in mind you will also be offered a lot more help along the way by the staff who are as keen as you, if not keener to preserve the peace for the other 300 odd passengers, and to have your bundle of love and joy sleeping peacefully as quickly as possible. You can do much to help yourself though by keeping things as simple as possible and staying where possible inside your daily routines.
Bring all the usual food stuffs, drinks, toys and of course any equipment required to deal with No1's, No2's or No3's (!) Try to pack everything into smaller containers than you would probably use on a day to day basis, then they can be stowed in manageable sized portions in easy reach, so that you can grab pacifier's or any other essentials without reaching for the overhead lockers if the inevitable 'accident' occurs during take-off, turbulence or landing when the seat belt sign is inconveniently flashing.
Try to book your itinerary around regular sleep patterns with a preference to feeding time just before sleeping and you may just find the plane is conveniently in the same time zone and you won't be at odds with the people around you or the forces of tides and time and Mother Nature's body clock.
Whether you are alone, with a friend or have found yourself hauling your family around the globe, "Be aware of your fellow travellers – you are not the only one!" That's the best advice I have received and can offer to you too, fellow traveller. The people next to you are also cramped, tired, awkwardly seated and trying their hardest to make their journey seemingly fast and comfortable. Chat to them if you like, but be careful to read their body language remembering you are dangerously close to each other's personal space, if they hint at sleeping or watching a movie, back off and let them be.
If you are travelling with a child and people around you are getting a tad edgy because your child is not keen on their popping ears or wildly disrupted sleep patterns, then perhaps its worth trying to be the bigger person, smile and apologise – it truly will go a long way to disarming a nasty situation.
The Air Hostesses live a fast and glamorous life dedicated to customer service, being 5 star waiters, confidants, diplomats, air safety, security and crowd control experts, not to mention having to be accomplished nannies, medics and even cleaners. All these hats they have to juggle and successfully perform, sometimes simultaneously in challenging, cramped and extra-ordinarily difficult conditions with challenging, cramped and extra-ordinarily difficult customers, all the while keeping the plane operating smoothly while in the air.
The captain takes the credit for turning on the computer, explaining that despite the usual delays from Air Traffic Control and other entities with their own agendas, that somehow we will miraculously arrive at our destination if not ahead of schedule, almost certainly on time, and all the while keeping the aircraft safely in the sky through 5 time zones and over as many areas of civil unrest, but the real heroes are these tireless air hostesses who bring my refreshments at the touch of button whatever the phase of the journey or time of the day or night.
Don't get me wrong the pilot has his moments too I am sure, but at least from where I am sitting, he didn't draw the short straw! So be sure to smile and make the flight attendants day a pleasure.... I guarantee (limited guarantee as they are human too and have tough days like us all) but they may well respond and make your journey one to remember.
A smile on the dial goes a million miles in this speeding sardine can!
January 26, 2012