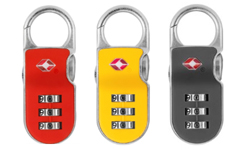 Smart Locks for Travellers
Smart locks for travellers are the answer when backpacking across multiple continents where protocols and languages may change at every border control, travelling internationally or domestically for business or to visit family and friends, especially if your trip takes you through the USA, UK or Europe and it is simply imperative that you adequately protect the integrity of your checked luggage.
When you buy new suitcases, invariably small ineffective locks are supplied free of charge, or you may wish to purchase regular key or combination type locks to protect your luggage, but these locks are often more trouble than they are worth if an airport, border protection or customs official needs to check inside your case in your absence.
In the event that there is a need to access your bags and they have been secured with traditional padlocks; if you are sitting comfortably in the airport lounge, on the tarmac in the aeroplane waiting to depart or in a hotel on the other side of the world, far removed from the hustle and bustle of the aircraft hold security area, the customs or border control officers will need to force entry, damaging your lock at best, or your entire designer bag at worst.
Well not anymore. From 2003 the U.S.A mandated that all checked luggage would have to remain unlocked to allow security agents to inspect the contents.
In conjunction with the U.S. Department of Homeland Security's TSA (Transportation Security Administration) and her Majesty's Revenue and Customs in the U.K. major luggage and lock manufacturers worldwide came up with an internationally recognised lock mechanism that enables the padlocks securing luggage to be opened with a master key that is held by government agencies at border controls all over the world.
Yale Travel TSA Locks® incorporate Travel Sentry® and can only be opened by authorised officials; so if required, luggage can be opened inspected and the bags sent on their way without any fuss or inconvenience to the traveller. Available as key & combination padlocks or luggage straps this TSA approved system is also being incorporated into suitcases and bags at point of manufacture.
January 07, 2013