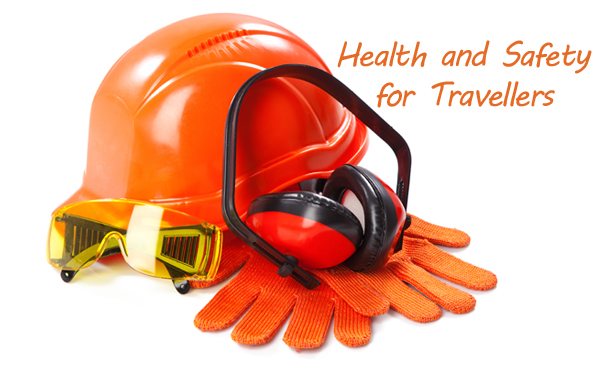 Health and Safety for Travellers
Health and Safety awareness is commonplace in the home, workplace, school and also when we get into our leisure activities...but...
And I think we are all guilty of this to a degree, as soon as we leave home for stranger shores whether for business or pleasure, no matter how often the emphasis on self-preservation is heralded in our own backyard , all too often we forget to be aware of the many dangers around us; putting ourselves in harm's way, leaning just those extra few inches off the ledge for the perfect 'Selfie', drinking just one more 'Singapore Sling' while waiting for your connection at the airport or riding a motorcycle without a helmet, enjoying the wind in your hair while speeding like a local through the market place.
The truth is, and if we are honest with ourselves we somehow feel above the law, invincible or that common-sense and laws don't apply anymore.
No one is expecting all travellers to sit and write a risk assessment or to analyse each step of their journey, and let's face it, half the adventure of travel is the excitement that flexibility and freedom offers us when we are exploring our planet, but a wise man once gave me some advice I have employed in many areas of my life - he told me to sit and picture as much of your journey in your head, over a nice cup of tea, well before you travel. You see, visualising the steps you will take, imagining scenarios that you may encounter along the way in your minds' eye and considering the options that may present themselves to you, can help you be prepared for many little inconveniences and prevent a drama turning into a crisis! Whilst this may sound an obvious thing to do, you may be surprised at how many people simply leave everything 'till the last minute, only dreaming of sandy beaches and stunning sunsets, when a little lateral thinking could prompt them to bring sunscreen, insect repellent and swimming gear for the beach, and a camera, blanket and a bottle opener to enhance the joy of an exotic sunset.
Of course you will then be the best prepared traveller for making the most of your trip and soaking up the experiences that make us who we are, but you will also consider whether you need a visa to visit the country you are heading to, or if you need to have vaccinations to protect against the local duty free hepatitis or a course of tablets to prevent malaria.
Some simple things to remember where ever you travel are as glaringly obvious as a slap in the face, but we often take unnecessary risks, so remember to wear a seatbelt or helmet, wear protective clothing for hiking, including a good pair of boots, be aware of local laws and customs, eat and drink smart, avoiding excess of alcohol and eat foods that won't upset your otherwise cast iron constitution – particularly, be careful of water quality, ensuring you apply this rule to salads or fruit washed in local water as well as drinking water and using it clean your teeth and remember to take bottled water with you wherever you go. A small simple first aid kit will often prove a god send, even if it's just a few Band Aids for your feet rubbed raw by the new shoes that you bought for the trip, and have just carried you over the 200 miles of cobbled streets around your hotel or some antiseptic cream to treat an insect bite &nd ash; do you know the Spanish for "Antiseptic Cream"?
You know the hotspots for trouble and you know where you can let your guard down on your home turf but when you are in a strange town, all the pitfalls are in line waiting for you so keep an eye out for fluid situations such as train stations, places of worship, sports events or political rallies…things can get ugly quickly in these sort of environments and always beware the pick pockets and tricksters that thrive anywhere tourists are prevalent.
This may all sound like doom and gloom but if you register your trip details with the appropriate government foreign affairs agency before you leave, keep your wits about you and apply a bit of common-sense you can be sure to have the trip of a lifetime! Be a good Boy Scout or Girl Guide, Be Prepared!
Ohh, and did I mention travel insurance?….Just in case!
October 10, 2015