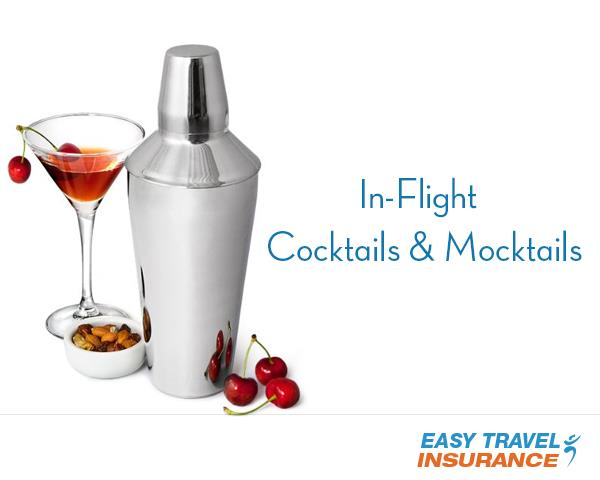 In Flight Cocktails
...and Mocktails
I think we can all agree, it's not quite 'Club Tropicana' when you are travelling long haul economy class...but what if you could mix great cocktails and mocktails using the in-flight drinks cart available on most airlines?
Most airlines who operate the longer routes and some domestic carriers offer a great range of drinks and mixers from the on-board drinks carts that reassuringly chink and clink up and down the aisles. Using a bit of imagination and some Macgyver-esque ingenuity it is possible to make a flight half way around the world much more fun by creating some colourful and delicious refreshments using the in-flight free-bees.
Here are a few wonderful suggestions that have been sent in by some of our social media followers. Our advice is try each of these thoroughly wonderful refreshments before you travel...
Summer Sangria – Imagining a dreamy summer in Europe? Well this one will take you right there. Score a glass or small bottle of red wine and if you feel like pushing your luck, ask for a miniature of brandy. Pour about half a glass of wine and a shot of the brandy over some ice in the tallest glass you can get your hands on and add some lemon or orange garnish slices (mashed, squashed or squeezed) if available, add a teaspoon of sugar and then pour on any fruit juices that are on the trolley. Usually cranberry, apple and orange juices are available so equal amounts of each will do, but if there are others, let your imagination go wild and use what's there. Give it all a good stir with a straw to make sure it gets cold from the ice and to dissolve the sugar, recline your seat and sit back to day dreams of a sunny meadows while sipping away the miles and saying your thanks to Debbie R from Murrarie for this gem.
Virgin Sangria – As with all our cocktails leaving out the alcohol components is not a crime and a good fruit cocktail is equally satisfying so omit the red wine and brandy and mix away with the juice range focussing on the slightly sharper cranberry or pineapple type juices with the sugar and fruit slices and adding the apple or orange juices at the end.
The Beyoncé – What a performer this one is…Beautiful and complex. Every airline has Champagne or sparkling wine and a range of juices, so the only challenge may be the Grand Marnier, but this could be substituted with Cointreau if that is available instead. Start with the Grand Marnier over ice and then fill your glass with equal parts Champagne and pineapple juice, stir with a straw to mix and kick off your heels as the miles slip effortlessly away with thanks for this vison of going to Pamela R from Melbourne.
Virgin Beyoncé - As with the Screwdriver, there is no chance of making a Virgin Beyoncé, unless pineapple juice over ice rocks your boat, but there is a lot to be said for a straight fruit juice, shining in its own light, and not relying on spirits and liqueurs for flavouring.
Cuba Libre – Sticking with the ladies, the Cuba Libre is also known as the Ariana Grande, where white rum over ice with cola and a squeeze of lime juice, whisks you away to the beautiful, white, sandy beaches of south America where all the beautiful people lounge away the warm days and sultry nights sipping on refreshing and satisfying rum based drinks. This one is really a crowd pleaser and is often overlooked due to the lack of toil required to deliver, and a simple white rum and coke is great in its own right, but adding the squeeze of lime juice really lifts this otherwise standard traveller to the outer stratosphere. Superhero status for suggesting this goes to Dean R in Footscray – Hats off to you my man!
Virgin Cuba Libre – Dropping the rum from the mix leaves just Coke and lime juice, but the addition of the lime juice to Coke, just like with the full bodied version of the Cuba Libre, really lifts the Coke, so much so, that in some countries you may have been lucky enough to see the world's favourite soft drink company pre-mix Coca-Cola with a hint of lime. Up here for thinking, down there for dancing!
G and J – Of course a good old G&T is a favourite of travellers the world over, travellers who want to show sophistication and also indulge in a drink that they know cannot be mucked up by rushed or turbulent service. But, switch the T for a J and you have suddenly got an equally robust drink that you can now honestly call a cocktail. The Gin and Juice is a real versatile animal too as the Gin lends itself so well to any juice you fancy, to any juice that may be available or equally to any time of the day. Mix a few favourite juices and add gin and it almost feels as if you have a health food, boost in your hand, and it's fair to say you do. H Walker from Melbourne obviously knows a thing or two about style and so we thank him for supplying this healthy option.
Virgin J – Check out the drinks cart on any airline and they will almost certainly have a range of different fruit juices available, as healthy refreshments for all travellers, and not just as mixers, but when you are asked if you would like something to drink with your meal, it's not out of the question to request a mix of the range available, making a real taste sensation. Use a bit of imagination and the Virgin J will be born as your very own creation.
Italian Screwdriver – We all know and love the trusted, stock standard, Screwdriver, which is just Vodka and orange juice over ice, but if you can add a half a shot of Amaretto, which in Italian means "a little bitter" or any other nutty liqueur such as Frangelico, to each full shot of vodka, suddenly you are whisked away on a Vespa scooter, down the cobbled roads of Rome, to the heart of Italy. This idea was shared by Jeremy O from Fairfield and I can honestly say it has become one of my all-time favourite drinks since trying it in a hotel bar in Venice and it's a great little number to keep in reserve for any time of day or night when you just can't get anything else to come together.
Virgin Screwdriver – You may have guessed, the virgin version of the Italian Screwdriver is just orange juice, and, if you really never touch a drop of anything alcoholic, but the Amaretto addition intrigues you, there are actually many nutty flavours available on your supermarket shelves in the form of syrups in the tea and coffee area or almond essence in the baking section, that you can add to orange juice to really tease the taste buds. Of course there aren't many supermarkets 3 kilometres up, over the Pacific Ocean, so this version may be one to try either at home or when you get to your destination. Try it, you can thank me later!
Bloody Mary – A morning or festive favourite that is as simple to make as it is delicious, this one will be the easiest of challenges. The basic idea is a shot of vodka in a glass with ice, if the galley has some tabasco sauce, commandeer a good few drops or failing that add some common or garden pepper into the glass and fill with tomato juice! I can hear you now…"Wow, that was easy!" And yes it is, so a big thank you to Matthew M from Kelmscott in WA for that one.
Virgin Mary – If the vodka boost is not for you, don't feel bad at leaving it out, this one works just as well with or without the alcohol.
Of course we want everyone to enjoy the flight so be aware of your fellow travellers, and if you are having too much fun, you may be making the journey much harder for other travellers. The mocktail recipe versions are just as delicious as the traditional cocktails so why not consider your travel pals and try them instead?
November 15, 2017