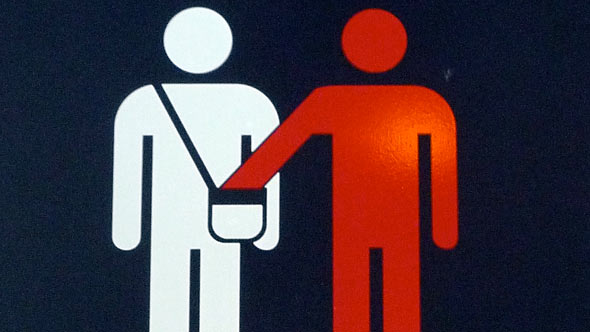 Travel Scammers
Travel scammers are everywhere but we all like to think that we are the savviest of all travellers and the scams we hear about seem glaringly obvious and we won't fall foul to them. True, when you are sitting in the comfort of your own home it's easy to believe that only a "Right Mug" would get caught by them.
There are elements in every community that make their living by preying on the vulnerable and unwary - In reality we all fall victim to scams one way or another when travelling, some are life changing and very serious crimes, whilst others amount to nothing more than small time confidence tricks or petty theft....In some cases we never even know we have been duped; and that my friend is the definition of the perfect crime - you don't even know it happened.
I have briefly listed and explained some common tricks employed by scoundrels the world over, and whilst having travel insurance won't prevent you falling prey to these common criminals, having the right travel insurance policy will certainly help to minimise the impact.
1) The Taxi scam is one of the most popular with foreign language countries and there are many different variants. So, you arrive at the airport and ask to be taken to your hotel that is five minutes away. 30 minutes into the journey you pluck up the courage, after giving the benefit of doubt for the last 15 minutes, to say "Hey, I'm not stupid. I know we have passed that landmark 3 times now" The cabbie will make all the excuses about avoiding traffic and the like, and is simply trying to make a bit of extra cash so it's easy to feel some sympathy towards them, but at the end of the day you are being had! Try to pre-arrange the cost of the fare before you get into the taxi, which may also be a little inflated as you are a foreigner, but at least you know what you are up for before you commit to the journey.
Another common twist is that the taxi driver tells you the hotel you have booked into or the shop you wanted to buy the ideal gift from has been closed for a couple of weeks now. But by sheer good luck he knows a great alternative. He makes a couple of sneaky phone calls on the way, hoping you don't speak the language, and lo and behold when you arrive you are treated like royalty. The only problem is, the shop or hotel is owned by the taxi drivers' friend or relative and you end paying through the nose for inferior goods and services.
2) The Bank Clerk scam involves the incorrect counting out of exchange currency by an opportunist employee in what would otherwise seem a reputable banking organisation. This is especially common in countries where large number denominations are involved when converting dollars to the local currency. The cashier will count quickly and pause to chat, distracting you and keeping you off guard in the hope that you don't notice the deliberate mistakes in the count and that your holiday euphoria will mean you simply don't count the received currency yourself.
Variants of the enterprising bank employees ideas are commonplace so always be on the lookout for signs that the transaction is legitimate. Beware of bureau de change vendors operating out of a cart or small caravan, which sounds ridiculously blatant, but in less privileged countries these types of traders are commonplace. If the booth is not a fixture in the street it is worth a bet it won't be there when you need to dispute the contents of the envelope full of telephone directory pages you have exchanged your hard earned folding for, only 10 minutes previously.
3) The Pamphlets scam is potentially one of the most serious scams you can fall victim too. A leaflet has been placed under the rear wiper of your rental car which is nothing more than an annoyance, but just the same human nature compels you to hop out to remove the offending article. Of course you leave the engine running and before you know it some scallywag has high tailed it with your rental car, your luggage and if you are really unlucky this will probably also mean your cash, cards and worse still your passport. People travelling alone are most at risk from this type of theft in most countries, but there have been cases of the thief escaping at a blistering pace only to realise that there is a friend, wife or child still in the car.
4) The Bad Luck scam throughout many European countries has reached plague proportions in busy market places, bus and train stations, or even travellers laybys on motorways. When tourist coaches arrive in transport hubs they are regularly targeted as this is a captive audience who are whisked in for refreshments and often leave quickly under the pressure of tight deadlines. You are certain to be offered small tied bunches of heather or other relatively worthless local artefacts – you are told that to refuse the low cost investment in this handmade trinket you will bring yourself a lifetime of bad luck, infertility and the early demise of relatives, not to mention the pending national calamity you will bring to your home country. Whilst the adults in this well organised operation are doing their utmost to convince you the sale of one item will prevent their family from starving on the streets, a swarm of children run around screaming and shouting, knocking into you and laughing. All the while this is happening; Oliver and a thousand Artful Dodgers are weightlessly sifting through your pockets and lightening the load of your wallet. In some cases, and this happened to a lady travelling with a coach party that I was on, handbags have had the bottom cut out and the contents removed or the strap cut and the whole bag or perhaps a camera is taken while you are desperately trying to barter for your families' good fortune with Fagin and his kin.
5) Credit Card scams are prevalent in all avenues of life these days and you should be as careful at home with your card as you would with cash, but even more so when you are in a country where methods, systems and customs are very different from home. Here it is easy to be unsure and assume standard practices are very different or in the name of politeness, unwittingly 'turn a blind eye' to the skimming techniques employed to gain your credit identity and completely empty your credit account. Watch out for suspicious activity in corner stores, restaurants, bars, shops and hotel lobbies, where the retrieval of a 'dropped' card behind the counter is enough time for the assistant to bend over and swipe your card through a reader or gain an imprint of your card number.
6) Dodgy Tourist Operators must surely be the most costly of travel scams; it is a modern day angle on one of the oldest tricks in the book of deception – seeing unscrupulous companies taking travellers' cash, and shutting down their businesses without delivering the promised goods or services. Of course in many cases the business closures are legitimate but in a similar quantity of cases the charade has been carefully orchestrated to fleece as much cash from an unsuspecting public as is possible. Another angle that has widely been used to swindle holidaymakers is the use of stunning photos of 5 star beach front accommodation, only to find on arrival it is really a run-down motel in an industrial area or right next to a motorway.There is a fine art to timing the getaway perfectly so as to obtain the maximum sack of loot before the authorities close in. There was a case several years ago where a British company collected more than $2,000,000.00 from would be travellers for flights and holidays but failed to deliver a single service in return; instead making a run for the sun to enjoy the holidays they should have delivered to backpackers, sightseers and hardworking families.
7) Bully Boy scammers are common in the Pacific Islands, but it is not unheard of to be approached by stand over thugs singling out and preying on vulnerable travellers all over the globe. Be wary of groups of locals who approach you trying to gain your confidence by asking where you are from, your name and how long you are visiting their country. As soon as they have ascertained you are a short term visitor you will notice you have a substantial crowd around you, blocking your exit whilst the 'spokesman' uses his most persuasive banter to try to sell you wooden carvings or tribal ornaments for large sums of money. Regrettably, you told him your name early on in the encounter (or even a false name) and deftly the ringleader has already carved it into the side of the gift as you try your damnedest to talk your way out of this uncomfortable situation. However, now that it has been personalised they tell you the sale has been finalised and galvanised by the systematic build-up of fear and terror many victims simply pay up just to get away.
8) Car and Scooter Hire scams number too many to list, ranging from the 'small print catch' where you didn't realise a mileage surcharge applies if you drive outside of a certain radius of the hire company, blatant overcharging on a credit card in the hope that you will be hurrying for a flight and not notice, to the other end of the scale where elaborate charades lead you to believe your vehicle is stolen or damaged beyond repair…..On two separate visits from Australia I rented vehicles from 'reputable' car hire companies at London's Heathrow airport only to find on my return that my credit card had been fraudulently charged twice for the whole months car rental.
9) Double Whammy scams are far too common for my liking and they are the specialty of the lowest of the low. When a traveller has been robbed, mugged, tricked or swindled they are usually at their most vulnerable. Safe in the knowledge that in our society, if they were laying beaten and bloody or in need of assistance, good Samaritans are on every corner and it is in our nature to accept offers of help believing that most peoples intentions are honourable. Sadly, that is not the case everywhere in the world and the wolf in sheep's clothing often comes lurking when there is the scent of easy prey.
10) Diamond Smiles scams vary in detail and complexity, but imagine you have been nightclubbing in the local town and as you stumble out into the night you realise your bag has been cut open from the bottom and the contents have vanished. It's okay though as there wasn't too much cash in there and you were smart enough to leave your passport and the lion's share of your funds in the hotel room. The only thing that will be a hassle is the missing room key and the hotel lobby is closed after 10pm.
As luck would have it, one of the local lads leaves the club at the same time as you, and you recognise him as the one who has given you lots of attention all night. He's a handsome fella with a smile that puts you at ease and so you are instantly relaxed when he asks if you are alright and you explain your predicament to him.
By pure chance his uncle, friend, neighbour etc. is the manager of your hotel and he can make a few calls to get you in. You go along with him and true to his word he gets you to the front of the hotel where his accomplice is waiting out the front of the hotel with 'The hotel master key' convincingly the entrance doors open and your new friend accompanies you inside opening the door to your room. All seems so kosher that you don't resist when he insists you owe him a drink at the very least; and he must be trustworthy as he has the hotel master key! Unbeknown to you he has gained your trust and access to your room, all along using your very own key, stolen earlier in the nightclub, and now you are in your own room with the very real prospect of a very bad ending.
Of course there are more scams out there in the real world than we could ever hope to document in a blog and as time passes even more new and increasingly ingenious schemes are cooked up by the less than honest amongst us. We don't however, recommend that you sit at home, too wary to venture out into the world, dreaming about the adventure, excitement and satisfaction of travel, get out there and embrace life. Just be suspicious of everything when you travel and don't forget that offers that appear too good to be true usually are just that and insure for every eventuality you can think of.
Speaking from experience it is so easy to wish you had spent those extra few dollars on the best possible travel insurance after you have had your passport or valuables stolen in a far of distant land with no one trustworthy to turn to for practical help.
October 12, 2011