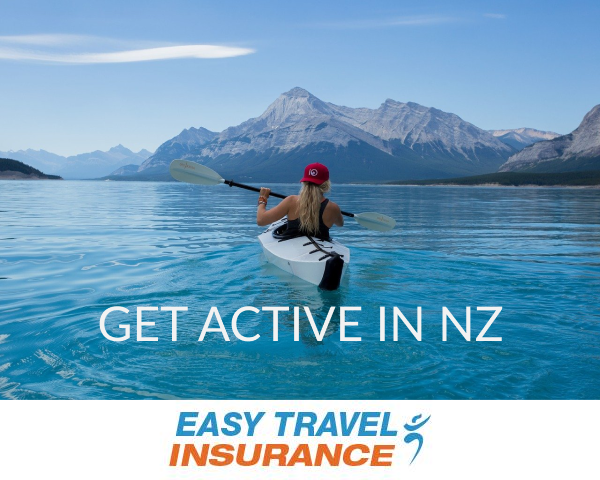 Get Active In NZ
10 Sporting activities that should be on your New Zealand bucket list!
New Zealand is renowned as the world's "Adventure Capital", and one of the key reasons for this is its diverse range of exhilarating adventure sports. Abseiling, diving, paragliding, water skiing, and horseback riding are only a few of the New Zealand activities that will entice any thrill seeker. So, the next time you plan a trip to New Zealand, brace yourself for an electrifying rush of adrenaline.
We've compiled a list of New Zealand's top ten adventure events. Plan your next trip as soon as possible!
1. Abseiling
Abseiling in New Zealand is a controlled free-fall down the side of a near-vertical face, and the geography of the country offers a plethora of abseiling opportunities.
In the central North Island, at Waitomo (the longest abseil in New Zealand), you can abseil into the breathtaking canyons of the Haggis Honking Holes, plunging down water chutes and waterfalls to dive, roll, and float into a wonderland of sculptured limestone and thundering cascades.
Some of the easiest places in New Zealand to go over the edge:
Auckland
Taupo
Waitomo
Christchurch
Queenstown
Wanaka
2. Kayaking
Kayaking is one of the easiest opportunities to really discover New Zealand's thousands of kilometers of spectacular coastline and inland waterways.
A guided kayaking tour in New Zealand can take you anywhere from the crystal blue waters of Abel Tasman National Park to the sheltered Marlborough Sounds, or from the soaring grandeur of the fiords to open water safaris in places like the Bay of Islands and Auckland's Hauraki Gulf.
Paddle with dolphins; paddle through a coastal sanctuary and then hop in for a snorkel; or paddle a Maori waka.
3. Paragliding
Paragliding is an exhilarating and breathtaking way to have lots of fun and to see the stunning scenery New Zealand is famous for, from a unique 'Birds Eye' viewpoint.
To participate in paragliding as a sport in New Zealand, you must first take a commercial paragliding flight. This is known as tandem paragliding and entails flying with a mentor. You will be loosely harnessed together and will need to jog together for take-off. Once in the air, you'll be standing with your guide sitting behind you (you'll be sitting on your guide's lap). Your guide will tighten you into the harness and then you'll be off!
There are many schools around the country where you can learn to paraglide.
The best places to explore paragliding in New Zealand are:
Queenstown
Wanaka
Auckland
Christchurch
Nelson
4. Ballooning
Ballooning is one of New Zealand's most scenic and spectacular trips, and it should be on everyone's bucket list.
Growing softly into the air on a balloon as the sun rises over the Remarkables has a surreal quality about it. A sunrise balloon ride over Queenstown is ideal for a romantic trip or a thrilling family outing.
You will help the crew to inflate the balloon and learn how it operates before being assisted aboard and ascending to altitudes of 6,000 feet. From there you can float over the Wakatipu basin, enjoying panoramic views of the bay, mountain ranges, and rivers.

5. Bungee Jumping
New Zealand is the ancestral birthplace of bungee jumping and one of the finest adventure destinations in the world for enjoying the sport's full glory.
You leap from hundreds of feet in the air, attached to an elastic nylon string, and come to a halt just shy of the ground, which is approaching at breakneck speed. This adrenaline-pumping sport invented by the Kiwis is as good as it gets if you are looking for excitement plus!
Here are some of the best bungee jumping destinations across New Zealand:
Auckland Harbour Bridge, Auckland
Taupo Bungee, North Island
The Ledge Bungy and Swing, Queenstown
The Kawarau Bridge Bungy, Queenstown
The Nevis Bungy, Queenstown
6. Skydiving
Skydiving is an extreme adventure in which you skyrocket into the earth at speeds of more than 140 mph. It is a must-do on your journey to New Zealand. Scenic New Zealand, famed for its extensive glacial and volcanic mountain ranges, is the ideal location to give it a shot.
The months of December and January are ideal for skydiving in New Zealand.
What makes skydiving in New Zealand even more spectacular is the breathtaking scenery in which you can partake. When the parachute opens and you float down softly and slowly, you can take in your surroundings and remember them as one of the most breathtaking moments in your life.
7. Snorkelling
There are several really spectacular snorkelling spots in New Zealand, where the oceans are crystal clear and are teeming with swarms of spectacular colourful fish and corals. You can of course enjoy the pristine, crystal clear waters around New Zealand at any time of the year, but if you are not a lover of the cold you should consider scheduling your trip during the summer months. The months of December and January are ideal for snorkelling.
New Zealand is very lucky to have so many marine parks where fish, aquatic plants and wildlife can be shielded from harvesting and returned to their natural balance. Snorkeling or scuba diving in a marine sanctuary is a breathtaking and inspiring experience that should be on everyone's bucket list.
8. Horse Riding
Horseback riding is one of the easiest ways to really see New Zealand. From its endless beaches to its snow-capped volcanoes and enchanting native trees, riding a horse helps you to reconnect with nature and experience the solitude and unity of New Zealand's wilderness.
Horse trek tours in New Zealand are tailored to the riders' skills. Even if you are a total beginner, your guide will show you the fundamentals and advance with you based on your level of comfort. If this isn't your first time on a horse, there's usually the chance to gallop and feel the wind in your hair!
9. White Water Rafting
White water rafting, river surfing, and heli-rafting allow you to immerse yourself in Queenstown's wild mountain rivers. White water rafting is a bucket-list staple and one of the biggest thrills that people come to Queenstown to experience. It's a spectacular way to see the alpine landscape while getting your adrenaline rush.
White water rafting in Queenstown has plenty for everybody, so if you're a novice or an experienced white water rafter, get out there and get wet.
Some of the best white water rafting spots are:
Vector Wero White water Park, Auckland
Black Water Rafting Waitomo, Waikato
Kaituna Cascades, Rotorua
Tongariro White Water With Rafting New Zealand, Taupo
10. Jet Skiing
Explore the largest inlets, beaches, and bays of New Zealand's stunning coastlines and lakes. New Zealand has a plethora of thrilling jet skiing tours available, ranging from fishing off the back of your jet ski to soaking beside it in natural hot springs.
Jet skis can be rented near the majority of New Zealand's common recreational water areas.

Whether you are experienced in adventure sports or a novice, safety is paramount. At Easy Travel Insurance, we know that not all travellers enjoy the same activities whilst travelling so we have a comprehensive list of activities that are covered while you are on your journey.
All the above activities are automatically covered if you buy any of our domestic, inbound or international plans.
September 01, 2023