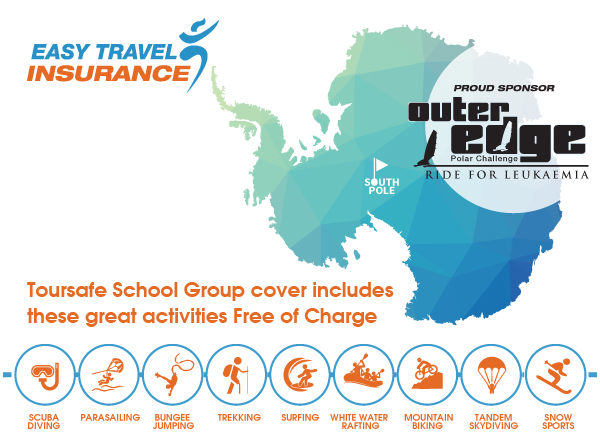 Toursafe Schools and The Polar Challenge
Toursafe School Groups now offer increased trip cover limits now in force...
Protect your school trip with $2000 trip value per traveller, with cover for students and teachers of any age, from just $29pp for up to 12 days travel anywhere within Australia!
All our domestic and international school group travel plans include snow sports and many other adventure activities free of charge, so no matter where you are organising a trip to; be it all the way to the South Pole or the snow fields of Australia, scuba diving on the Great Barrier Reef or in the pool for a Swimming Gymkhana, or perhaps you are visiting Parliament House or some other world class zoo; where ever you are taking your group, protect both your school and the travellers with confidence and peace of mind bought to you by Easy Travel Insurance - Good old fashioned service, the latest travel plans with the cover you need and lots of options.
Depending on the plan selected cover is available for:
☼ Cancellation and repatriation.
☼ Personal baggage, including sporting equipment*
☼ Personal Liability.
☼ Emergency Expenses.
☼ Emergency accommodation or meals following a delay to scheduled transport.
☼ Overseas medical, hospital, emergency dental and related expenses.
☼ Travel expenses for a replacement teacher in the event that one of the accompanying adults is unable to continue due to a claimable event.
The journey has begun! Charles is now on the ice heading across Antarctica.
We are not suggesting that just because we are the sole travel insurance supplier and proud sponsor of the Outer Edge Polar Challenge Ride for Leukaemia you have to plan a trip to the South Pole, but following the adventures of Charles Werb as he attempts a record breaking snow-sail to the pole, is a great way to get your students interested in the scientific and educational experiments and research he conducts during his journey and the excitement of raising much needed funds for the Leukaemia Foundation as he goes.

Inside the Outer Edge Polar Challenge – From a dream to reality...
A few words from Charles.. ."Whilst my dream to explore Antarctica only manifested itself 4 years ago, I can remember at the age of 24 doing some drawings that showed a wind powered vehicle with Big Foot tyres for use on sand or for desert exploration.
For years I have played with wind powered "toys", be they kites or sails, and when the decision was made to go to Antarctica, I thought, why not do something that has never been done before? Ultimately, my fascination with wind powered toys led me to my decision to attempt to sail around the Polar Plateau in a snow sailer."
THE MISSION
1. To attempt what has never been done before, to snow sail on the Antarctica Polar Plateau.
2. To attempt the world record for most distance covered in 24 hours, wind assisted.
3. To raise as much money for the Leukaemia Foundation by encouraging donors to donate a sum of money based on every kilometre covered in Antarctica.
"The trip would not be possible if it weren't for amazing sponsors like that of Easy Travel Insurance.
To find out more and follow the journey, visit www.outeredgepolarchallenge.com.au Keep an eye on the map or check out the blog for daily updates of my progress, or you can visit Outer Edge Magazine on Facebook, Twitter and Instagram for daily posts on the progress of the journey.
Of course it's all about raising funds on the Ride for Leukaemia, and you'll find links on the website to the Everyday Hero page to make a donation."


February 23, 2016