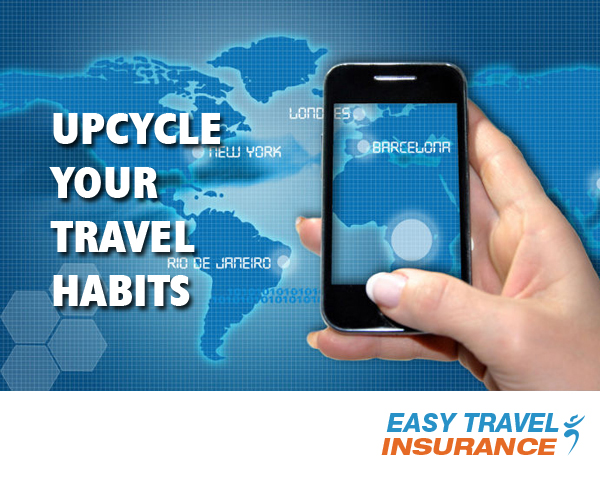 Upcycle Your Travel Habits
It's time to embrace technology for all things travel, including how you buy your Travel Insurance
Don't get caught in the trap of buying from the travel agent, airline or booking site, when the real savings are significant, available instantly, online and Easy! Save on your travel products by buying online from Easy Travel Insurance.
Of course, change is inevitable in life, and some say almost as certain as death and taxes, and so advances in technology and mans' awareness of the world and it's environment leaping ahead in recent times should really be no surprise.
The digital age has revolutionised everything from how we investigate the origins of our little blue planet, using carbon dating, the analysis of millions of years of carbon decay to put an age on every conceivable milestone the earth has experienced; to scientific advances letting us magically bring life giving rain to the furthest, most distant and driest reaches of our ever so parched planet, where coverage by undrinkable water rules supreme in oceans holding more than 95% of the worlds water; and to medical and health advances offering ever extending life expectancy and quality of life improvements our Victorian forebears could only dream about, where live expectancy at birth doubled in only 10 generations and we can now expect to live well past the average 30 or 40 years and expect at least 75 years with optimists and pessimists alike predicting far higher expectations in just a few years from now. Our prehistoric ancestors would have been in awe, should they have been able to comprehend a jump from their expected demise as a teenager or 30 years for a real old timer to centenarians being the norm!
The most obvious example of technology in our day to day lives is our shifting dependence from matter you can touch and hold and feel to a digital age where everything is binary based data, and soon to be, quantum computing. A game changer.
What is surprising though is the biggest change in how this new found smartness of mankind, affecting almost every part of our lives, is probably not the refrigerator telling us the milk is about to go off; the power bill arriving as if by magic, having self read the meter and generating its own invoice which arrives in your very own cloud, so that while you were out exploring our shrinking planet, you can pay for the electricity used when the cat accessed the cat flap and auto feeder - from anywhere in the world! Nor triggering the lighting controlled by lightening (or your smartphone) or seeing how your house looks, via the internet of things video cameras you fitted, in Australasia from your hotel room in Europe. What has changed is how we use this technology. To plan. To book. To manage. To record. To enjoy. To share.Travel.
Plan - Gone are mountains of tour brochures with glossy pictures of sun drenched beaches cleverly framed to cut out the scaffolding of the high rise being constructed just out of sight, replaced by scrolling on social media for recommendations and swiping left or right to record our reviews of displeasure or satisfaction.
Book - Gone are the days we used to pile into the travel agent as spotty youths ready to rediscover the lost world of our ancestors, new young families looking for that well deserved beach break or the senior and increasingly not so senior generation enjoying bucket list northern lights in the Norse-lands and sun sets in the Southern lands. Now we sit in opposite corners of the same house and search for inspiration and make enquiries through numerous money saving comparator's or Airbnb and share our suggestions on Facebook, WhatsApp and Twitter...in fact you don't even need to come face to face with a soul until you find yourselves in your hotel room wondering who picked this lemon!
Manage - Gone are paper tickets and inspectors checking and stamping your ticket to prove its validity, making way for bar codes, QR codes, Data Matrix codes and e-tickets or even just a screen shot of an email giving you right of passage anywhere you chose to go.....
Spend - Gone are travellers cheques and the risk of unfamiliar currency in countries where a wheelbarrow is required to take enough cash to buy a loaf of bread; it used to be just the Queen who never carried cash but now with that trend spreading across the globe and with the ease buying anything local in your home currency on a credit or debit card the world over and Pay Pass for the little things, the good old days of the jingle jangle of loose change and a pocket full of 'Folding' are long gone....
Record - Gone are Hubble telescopic lensed cameras and TV studio sized video cameras all replaced by a marvellous device that sits comfortably in your back pocket and can do everything you need and more besides - they say the computing power of one iPhone 6 could simultaneously guide 120 million Apollo 11 rockets - so now we are exploring Jupiter it seems the sky is the limit and it won't be long before we will be able to get out there and snap a selfie on the moon!
Enjoy - Gone are the good times... No more umbrella emblazoned Pina Coladas, stripy deck chairs, sunburnt arms and blistered feet.No wait that's the point.... That's all there still, it's just how we enjoy it that has changed...We still have to first down to the pool in the morning to save the best seat before they are lost to a sea of other tourists, but now we check the weather on an app and get inspiration for the trending cocktails from webtender instead of a bartender.
Share - Gone is the need to find a post office and ask for stamps to post a suitably silly captioned "Weather is here, wish you were lovely" picture post card of the view from the hotel, beach or mountain to let your family and friends know you are safe and sound at your destination - although a great idea I heard somewhere, was to send yourself a postcard every day, of every place you visit and write on the back your activities so that when you return home you can get it bound into a small book and have a great picture diary and journal of your trip...what a memento that would be!
Travel - Gone is (should be) the need to queue at check-in desks or immigration as now we float through with little or no human interaction with bio metrics, facial recognition and our DNA leaving an almost snail like invisible trail across the globe ohh what a sight to see, but are we comfortable with being more visible than ever before with our every move tracked and recorded by scanners, sensors and cameras?
A man lives inside his head.
The only thing you can spend money on, that truly makes you richer is travel.
Get out there and make some memories.
August 24, 2016