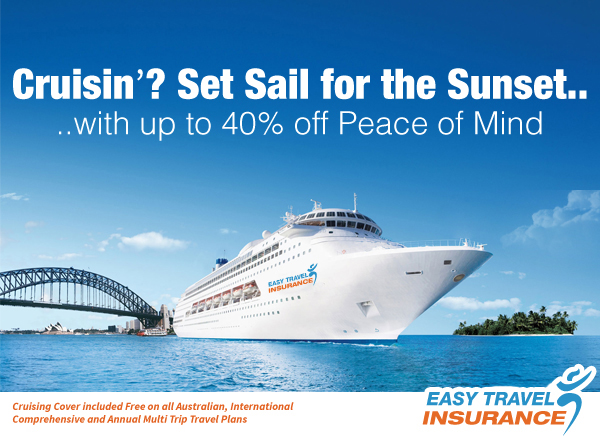 Crusin
Before you weigh anchor & head for the high seas ...
Be sure that your travel insurance has the correct and most appropriate levels of cover.
Consider this....if you are taken ill or have an accident while aboard a cruise ship does your travel insurance cover this type of travel? Many policies specifically exclude cruising whilst our Australian Comprehensive, International Comprehensive and Annual Multi Trip travel plans all include cruising free of charge, and what's more kids under 25 years of age are also included free of charge.


Will you have to pay up front in the ships sick bay or hospital and try to claim your costs back? The cost for medical care on board ship can be a shock to the most seasoned cruise traveller but the sick bay administrator can talk direct to the QBE Assist team 24/7 and gain approval for most scenarios without you needing to give your credit card a major work out to save your skint! Remember, Medicare and private health funds do not include cover for care on board ship.
If your situation is serious, will your insurer evacuate you from the ship and repatriate you, or will you have to sit the rest of the journey out on the nearest spot of dry land that has a hospital? If necessary QBE Assist can arrange for your medical or emergency evacuation form a cruise ships so you don't have to wait for the next port for treatment.
March 11, 2015