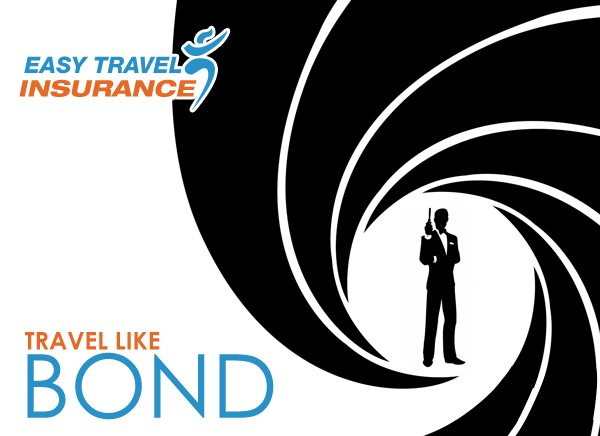 Travel Like Bond
The name's Bond, James Bond....
We all like to fantasise about the lifestyle this lucky individual leads, jetting between cities across all the points of the compass, at the drop of a hat and to travel like Bond is something to aspire to for some.
The reality is that most of us spend weeks and months on end and sometimes even years planning our travels but for others who spend far more time away actually travelling than they spend planning the trips, the need to have some basic travel essentials to hand at all times is of paramount importance and Annual Multi Trip travel plans are just the thing. It's a safe bet the likes of 007 has all his passports (matching all his alias's) close to hand at all times along with a sturdy case and suitable wardrobe for each exotic destination he could foresably be sent to at a moments notice, but one thing he certainly doesn't have is travel insurance.
Not because he is unlikely to find himself in need of an emergency evacuation off the side of a mountain or in a car crash in a remote market square full of bustling shoppers, traders and livestock, or even because he wont get a fish bone stuck in his throat in a 6 star hotel restaurant; he only skips the peace of mind offered by an Annual Multi Trip travel plan because whilst the flexibility of unlimited trips in a 12 month period could well suit his lifestyle perfectly, he relies heavily on his finely honed survival skills and sometimes the British secret service and their network of undercover agents worldwide to get him out of sticky situations and whisk him away just in the nick of time.
Thankfully, you and I don't need to trust in a web of espionage and underhand deals with agents from the 'other side' because the network offered by our assistance team could well be deemed superior to the limited offering James has to settle for.
With emergency phone numbers for every country in the world, where the telephone is answered by an Australian, not even a voice recording, your plight is attended to by in-house trained professionals - not some third party, non English speaking receptionist in a call centre somewhere, who knows where? - But a bona fide Australian with a real stake in your well being, in your moment of need. Now that's reassuring!
Must dash to take this call now.... "Yes, Mr Bond, we do have a policy that will suit you right down to the ground!!"
September 09, 2013