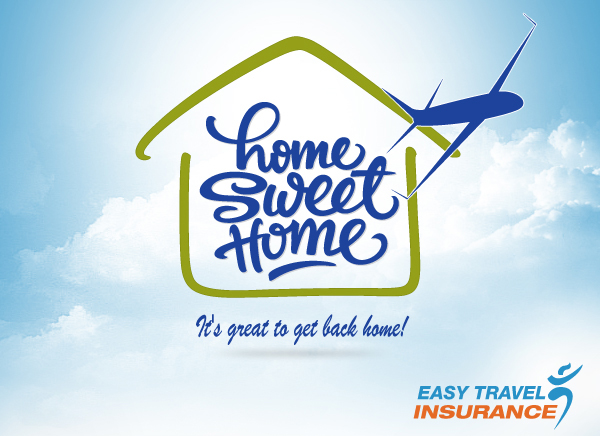 Home Sweet Home
I love travelling but the best part about going away......is coming back home!
It is easy to see why people love to travel. The education, the exhilaration, the excitement and the enlightenment!
If you are honest with yourself though, the highlight of the whole trip is often, really just going home.....
Home to the bed in which you can sleep the soundest, home to the shower which massages and washes away the weary aches and pains and offers the best time to reflect, home to the kettle which helps you make the perfect cup of tea only you know how to create, home to the comfy chair that has moulded to your shape after years of falling asleep in front of the television, home to your pets who welcome you as their sole reason for living, and if they aren't your reason for living, home to your family and friends with whom you delight in sharing your magical experiences and travel adventures (and for some the reason you go away in the first place!)
So why do we so love to travel to distant shores and what really inspires us to throw away all the comfort, familiarity and security of our own domain in favour of odd food, strange money, unusual flora and fauna, towns that disorientate and new faces both friendly, and suspicious of the alien in their back yard?
Well the answer is simple, and I know that we don't just travel so that we can rush home, that's just a small but never-the-less important part of it, but I think we travel so we can grow! Someone once told me the only things you can count on are 'death and taxes', but 'change' is probably right up there in the certainties of life and part of change is of course growth, not just economical or spiritual growth, but the absorption of our surroundings gives us the knowledge and true ability to talk about things with authority. We can glean much information from our own back yard but there is no substitute for peering over the fence to where the grass is greener and looking to see what are neighbours are doing to improve, and further afield to their neighbours and not stopping there until you have explored the whole world.
Of course on your travels you will not only reap the rewards of diversity and unfamiliarity but you will also impart some of yourself on the people and places you encounter. It's well know that different nationalities have a reputation for taking a unique idiosyncrasy with them when they travel, be it the obsession the English have with queueing and endless cups of tea, the order and quality the Germans expect, especially with reserving the best sun loungers at the resort, the loud and sometimes misinterpreted manner of the Americans or the unwillingness of the Chinese to try local cuisines.
Some say that the phenomenon of mass travel is a substantial part of globalisation and not only do I think that that is probably true but also, that to a degree, I believe it is a wonderful thing. Not to the extent of major supermarket of fast food chains dominating economies the world over, but the sharing of these individual traits, cultures and the infinity of natures' diversity, breeds a good deal of tolerance, and as international borders are continually being shifted or even removed entirely right in front of our eyes, through our travels we have learnt enough about our neighbours to understand that the English queue, not to be bloody minded and bad tempered, but because they just want to be orderly and they would never jump in front of you in a line for anything – not even a life boat on a sinking ship (but perhaps for a cup of tea?!), the Germans are helping us realise that quality is more important than quantity and have showed us this in the strength of their economy, the Americans over compensate for everything because deep down they truly want the best for everyone, and the Chinese simply do not have exposure to Pizza and Indian takeaways to the extent that we have come to enjoy even at home so they just don't know what to order.
So you see, the blurring of boundaries, lines and territories are a part of the world we live in, something to embrace, and I love to explore it all, so I call myself an Internationalist, but as long as I can buy a pint of Guinness, a pack of Twiglets and real My Mate Marmite wherever I lay my hat, I will tell you stories for hours how I travelled the world, and the obstacles and hurdles I overcame, just so I could rush back to be a local in the place I call home. To this end I travel light knowing I will be weighed down with memories and souvenirs by the time I come home, but I never, ever, ever, leave home without the best quality travel insurance I can possibly get my hands on so I can be certain of the very best chance I will make it home safely, wherever I may be and what ever life throws in my path.
If you are travelling soon and want to be sure you get home safely and to secure peace of mind for your trip, find out more & get a quote from Easy Travel Insurance
December 02, 2014