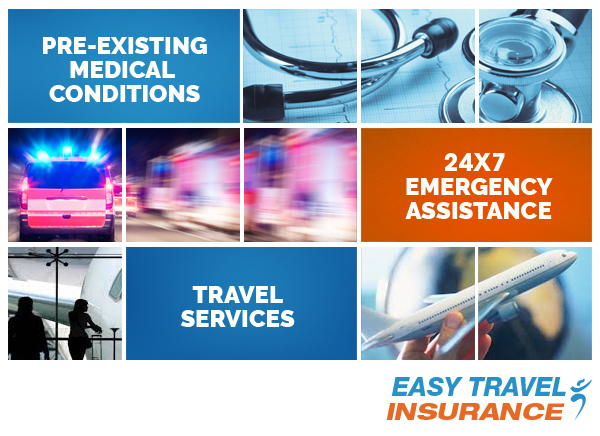 Travel Services Explained
Pre-Existing Medical Conditions
Many pre-existing medical conditions are automatically covered, free of charge, and through a simple, online, obligation free process, cover can usually be provided for many others.
You may be surprised to know that you do not need to apply for cover for many medical conditions including Acne, Allergies, Asthma, Bell's Palsy, Bunions, Carpal Tunnel Syndrome, Cataracts, Glaucoma, Coeliac Disease, Congenital Blindness, Congenital Deafness, Ear Grommets, Epilepsy, Gastric Reflux, Goitre, Graves' Disease, Gout, Hiatus Hernia, Hip Replacement, Knee Replacement, Shoulder Replacement, Hip Resurfacing, Hypercholesterolaemia (High Cholesterol), Hypertension (High Blood Pressure), Menopause, Migraine, Gastric Ulcer, Peptic Ulcer, Plantar Fasciitis, Raynaud's Disease, Skin Cancer, Stenosing Tenosynovitis (Trigger Finger), Urinary Incontinence, Underactive Thyroid, Overactive Thyroid and Pregnancy up to 24th week (23 weeks and 6 days) - refer to the Product Disclosure Statement for full details and any terms and conditions that may apply.
If you require cover for a condition not included in the list of Automatically Covered conditions or you want the peace of mind knowing that your Pre-Existing Medical Condition is covered, remember the process to apply for cover is obligation free and will usually only take a few minutes to find out if cover can be provided using our instant online calculator.
24x7 Emergency Assistance - Every minute, every day of the year the emergency assistance team is ready to help you in your moment of need.
When you find yourself needing Emergency Assistance it is very reassuring to know that the team of medically trained travel experts are on stand-by, right here in Australia, 24x7.
There is no outsourcing to 3rd parties or answering services when you call, you will speak directly to the people who can authorise treatment and payments at hospitals, who can organise translators for any language barriers and who can even arrange your evacuation from disaster zones or in times of need.
Worldwide assistance numbers can be found in the information contained in your certificate of insurance.

Travel Services - Did you know? If you are overseas and need advice on current events, weather or where to find an embassy, our team can help.
When asked, most travellers indicate that they buy their travel cover so they have peace of mind if they get into trouble and find themselves in a far flung corner of the globe, and really want to have someone they can call for help. And whilst it's true that having a safety net in place is the primary reason so many travellers rely on our world renowned emergency assistance to watch their backs, it is also because the our team are able to offer help, advice and guidance with everything from lost documents to lost directions, stolen luggage, dentures and prosthetic limbs and for up to the minute advice on developing world events and situations as they occur.
Some of the more common requests for help include directions to public services, consulate or embassy buildings, how and where to obtain replacement travel documents such as tickets and passports or advice on the fastest route to the airport so you don't miss your plane home!
Hopefully you won't need to use call on us for help and services such as -
Assessing and monitoring your condition after an accident or illness
Getting you home in a medical emergency
Paying hospital and medical bills
Sourcing interpreters in non-English speaking overseas hospitals
Rescheduling disrupted travel plans
Providing advice and contact details for airlines and local embassies if you lose your tickets, passports or travel documents
Providing bank/credit card contacts to help with emergency funds
Passing on urgent messages to your family or travel agent
But if you do need to ask for help from the emergency assistance team, you know that the very same people are trained in all aspects of travel assistance from being there for you in an emergency through to putting your mind at ease if you have simply lost your way. We are happy to be your favourite travel companion, and are never more than a phone call away.

April 08, 2016