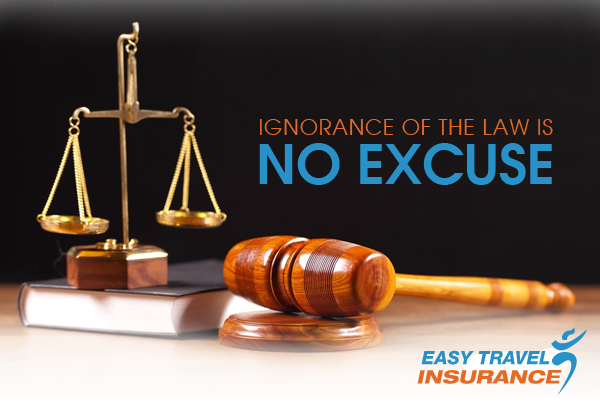 Ignorance Of The Law Is No Excuse
"Ignorance of the law excuses no man. Not that all men know the law, but because 'tis an excuse every man will plead, and no man can tell how to refute him."
Or as English jurist John Seldon was also famously quoted as saying in 1689 "Ignorantia Juris Non Excusat" - In other words, when we travel (and equally when we are at home) there is no defence in pleading ignorance of local laws, so it is important to do your research and become familiar with some of the laws in the countries you visit that you may fall foul to.
Great examples are found in countries such as the aptly, double entendre nicknamed - Singapore - known as 'The Fine City' for at least 2 very good reasons. Not least the number of simple offences that will have you reaching for your wallet to pay fines or worse if you are caught chewing gum, jaywalking and even for not flushing the toilet!
Of course many other countries have other seemingly amazing or crazy laws to us, but to the locals it's their way of life and they take them in their stride. Some great examples include Barbados which bans the wearing of any style of combat or camouflage clothing, Nigeria won't allow you to bring in mineral water and many African counties such as Rwanda and Eritrea have completely banned the use of plastic bags of any kind. In Italy, Venice has outlawed the feeding of pigeons and the authorities in Florence will fine you if you eat or drink on the steps of, or around churches and other public buildings.
Girls going topless is often frowned upon on many beaches around the world but you may be surprised at some of the places where boys must keep covered up in public too, such as the principality of Monaco and Barcelona.
Carrying drugs is obviously a no-no everywhere, but often people are surprised to hear that whilst locals are free to sample the 'soft drugs' available over the counter in many Dutch 'coffee shops' it is an offence for foreigners to join in. Most establishments however flout the law as up to 90% of their trade is from tourists. It is worth remembering that if you spend 2 weeks floating around Amsterdam and fly direct into Singapore on the way home, the law there considers anyone who is high on arrival (and I don't mean airborne on the latest A380) to be in possession of drugs, and with random drug screening in place at Changi Airport you could find yourself doing a lot of explaining.
August 05, 2015