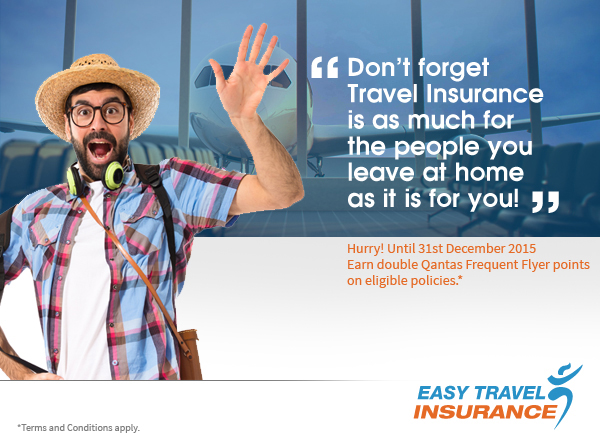 For The Ones You Leave At Home
Look a little harder at your travel insurance and be sure there is cover for more than just a stolen camera or lost luggage.
Last year the Australian Government provided consular assistance for nearly 16,000 Australians around the world seeking help locating lost relatives, hospitalisation, deaths, general welfare, repatriation, theft, arrest and other assistance. On top of this there were over 8000 emergency passports issued due to loss, theft or accidental damage.
Whilst it can certainly be more than just a good idea to ensure your travel insurance has sufficient levels of cover for the obvious needs you may encounter, such as emergency cash and luggage, cover for non-refundable tickets and events, rental vehicle excess and cover for your golf clubs or other sporting equipment, it is equally, if not more important to check there is sufficient cover to repatriate you in an emergency, or to cover hospital bills where your Medicare card simply won't work.
Of course everyone knows terrible things happen to travellers the world over, but too many of us assume it won't happen to us.
Well, for many Australians it did happen to them, and sadly a good deal of them had none or insufficient travel insurance. The consular assistance you can expect if you are in trouble without travel insurance is limited to say the least. The Government won't pay your medical bills or fly you back for treatment in Australia. At best they will offer translation services or arrange for you to be put into contact with loved ones back at home.
There are countless examples of unfortunate Australians in peril overseas, but the Department of Foreign Affairs and Trade (DFAT) are using this example to highlight the dangers of travelling without travel insurance.
"James and Indira booked their cruise around the Pacific. Their cruise sailed from Sydney and included all food and accommodation and a doctor on board. Halfway through the holiday, Indira fell and broke her hip, needing medical help beyond what the ship's doctor could provide. Thinking that they'd be looked after on the ship, they hadn't taken out travel insurance. The next island didn't have hospital facilities needed to treat Indira, so she was transferred by helicopter to a bigger island. With bills over $90,000 James and Indira had to re-mortgage their house and ask their adult kids to help."
For up to the minute updates see the governments' Smart Traveller Website
December 08, 2015