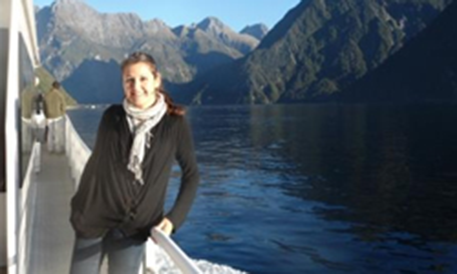 Passport Emergency
Could your travel plans be thrown into turmoil with a passport emergency on an otherwise routine trip?
Pamela is a bright, outgoing Chilean student, working and studying in Australia at the University of Queensland as a Doctorate Candidate of Bio Engineering and through a combination of diligent hard work, unrivalled passions devoted to this field over many years and a keen interest to further research in a world renowned and worthy topic, Pamela is invited to present a segment at a conference in Queenstown, New Zealand. Being attended by her peers, it is a crucial way to advance medicine by mingling the best minds from all 4 corners of the globe. This is an opportunity that presents itself to Pamela from time to time having spoken on these topics in Spain, Argentina, Germany and Australia and she is naturally flattered by the repeat invitation so she jumps at the chance.
I arrived in Christchurch on the 27th March 2011 and intended to stay for one night" Pamela muses, "Soon I realised I wanted to stay an extra night to experience this vibrant and exciting city, have time to explore and of course to visit the alpine village of Hanmer Springs" So she makes the necessary arrangements and spends two days relaxing and mentally preparing for her big day. The time to move on to the conference comes around all too quickly but Pamela is excited about the main event and so she efficiently readies herself before flying on to the conference.
"The hotel in Queenstown was wonderful, overlooking Lake Wakatipu and the Remarkables Mountains but I had no time to enjoy the view as I had to dash out straight away to the first of a string of organised events where I met professors, students, and other likeminded people" Pamela goes on to describe a hum of excitement as the ritual exchange of stories highlights the years triumphs and not so triumphant moments as the delegates bounce ideas of each other. The hotel is a one of a well-respected international chain and the room is well appointed, clean and comfortable. "I unpacked most of my things using the hotel wardrobe and drawers, as I intended to make this my base for the next for days, leaving my passport amongst other valuables on a small table by the bed where I would always have one eye on them; I really thought that would be safer than carrying everything around in my handbag"
When the last night in Queenstown comes around Pamela decides to pack her bag ready for her flight the following morning. "I can't remember ever feeling so panicked and distressed as the moment I looked at the table where my passport had been and realised it simply wasn't where I left it. I knew it had been there for all of my stay and I hadn't used the safe or put it away in a bag.Even so I turned the bag and the safe inside out and that whole room upside down" In the buzz of the whole trip, and surrounded by friends and associates, Pamela just didn't consider that anyone would take something that didn't belong to them; but here in an unfamiliar city, miles from her surrogate home of Australia, she finds herself without the most crucial tool for International travel. What does it all mean to Pamela now? Simply that she cannot travel. Sounds very black and white? But the answer is exactly that.She just cannot travel not even on internal flights.
"Housekeeping came everyday over the 4 day period to make up the room and it was always left beautifully, but I just can't remember when I last set eyes on my things" Immediately Pamela calls the hotel manager through reception and the manager swiftly makes enquiries amongst the housekeeping staff with no success in locating the missing items. At this point the local constabulary are involved and the wheels of bureaucracy jump into gear beginning a process to enable Pamela to travel again. How long will this take? Well here is where it gets worse. Pamela is a guest in Australia travelling on a Chilean passport into New Zealand with only a study visa for a limited stay in Australia. When Pamela starts enquiring as to the steps she needs to take she is told she will need to travel to the Chilean Consulate in Wellington.
Initially this involves backtracking to Christchurch airport and then onto Wellington. But in order to board a plane without your ID the police have to be involved all the way accompanying you to the gate and arranging for you to be met at the other end. "I felt like the criminal" Pamela recalls "Being shepherded around by police made me feel that everyone in the whole of New Zealand was looking at me, pointing and muttering under their breath, and I was certain they were going to send me all the way back to Chile!!"
The next steps were relatively straight forward. Obtain an emergency, temporary passport from the Chilean Consulate, then off to the Australians for a replacement visa. Simple!? Not quite. Pamela soon discovers that an 'Emergency Passport' takes over a week to arrive, with a further 48 hour delay for the visa, assuming it is not the weekend, but not before you are positively identified and your story is verified. This involves further humiliation in the form of fingerprinting, photographing and interviewing.
Finally the passport arrives at the consulate, a replacement visa is issued, and Pamela is ready to travel again how long for this scenario to play out? Over a week? Maybe two??!? Sadly for Pamela, 28 days elapse from the time she notices her passport missing to the day she boards a flight to return to Australia.
She had no travel insurance and so has spent her time in backpackers and hostels because hotels are too expensive long term and now she has to pay for her new flights back home. All in all Pamela incurs out of pocket expenses of well over $1400.00 including a new passport, visa accommodation and flights, and that's not taking into account food and personal items that had to be purchased. But things could have been much different if she had invested in the most important travel accompaniment Travel Insurance!
The right policy would have seen assistance and advice to smooth and expedite the emergency passport and subsequent visa application, proper accommodation and of course flights home to Australia.
Lesson learnt Pamela?
"Oh my yes!" Pamela smiles, "I shall never, ever, EVER, travel again without insurance – even if I am travelling back to my home in Chile. I didn't realise how easily one little mistake or just plain bad luck can get you caught out anywhere, even on a stopover or a side trip. I was supposed to be away from home for 4 days and I ended up being away for more than a month! I'm very lucky my University is very understanding, otherwise I could have lost my scholarship too"
September 12, 2011